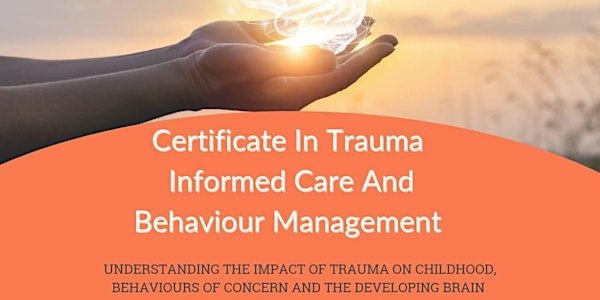 Trauma Informed Care and Behaviour Management
This is a fully accredited CPD Certificate. The course will run over 5 evenings, for one evening per week.
About this event
Adverse Childhood Experiences severely impact on childhood and the developing brain, often leaving children in a state of constant toxic stress, which can be damaging to their long-term development in both body and mind.
Our highly qualified and experienced tutor will assist the learner in understanding the impact of trauma on childhood, behaviours of concern, and the developing brain.
Learners will become equipped in understanding where behaviour comes from. They will acknowledge their own values and beliefs and the role that plays in understanding and managing behaviour.
It will assist the learner in discovering various strategies to support the person they work with to help in reducing behaviours of concern. It will acknowledge the importance of building resilience through relationships and social emotional learning.
Using a strengths-based framework, we will focus on a person's strengths rather than challenges to help them learn new skills that will set them up for a life of success.
"There is no timestamp on trauma. There isn't a formula that you can insert yourself into to get from horror to healed. Be patient. Take up space. Let your journey be the balm." – Dawn Serra