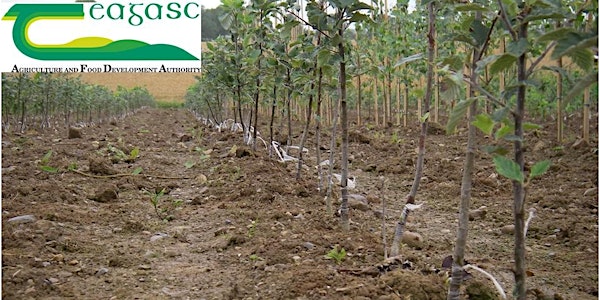 Tree budding and propagation
The event will demonstrate budding propagation skills including discussion and demonstration of a range of semimature trees.
When and where
Location
Kildalton Agricultural College Kildalton College Piltown Ireland
About this event
With growing demand for young and semi mature trees there is scope for new entrants in the potentially lucrative sector. The amenity sector has seen continued growth over recent years. The farm gate value of amenity plants produced in Ireland in 2019 was estimated to be €37.8 million. In 2021 the amenity sector was valued at €1.5 billion. Ongoing construction and demand for urban greening should see steady demand into the future.
Teagasc will host an event at Kildalton College on Wednesday, 17 August at 11am & 2pm that will support new and developing growers.
Fred Townsend, Teagasc Nursery Stock Lecturer and Dónall Flanagan, Teagasc Nursery Stock Advisor will be joined by Gráinne and John Murphy, owners of Annaveigh Nursery for a demonstration of skills, discussion and a walk through some of the selection of trees being screened for suitability for climate change.
The Murphys have significant technical knowledge and experience in tree production. As owners of Annaveigh nursery they are one of the biggest tree nurseries in the country production a wide range of high quality semi mature trees. John and Grainne spent much of early years in the best German nurseries learning the skills required for tree production.
John and Gráinne will cover the following topics:
• Essential tools and maintenance
• Ground preparation
• Root stock selection and planting
• Bud wood sourcing and preparation
• Budding and tying
• Aftercare
Fred Townsend will present some of the resources used by the students including stock beds, budding lines and established budded and grafted maidens.
Dónall Flanagan will briefly discuss climate change impacts on tree production and selection. There is an established trials field that attendees can observe over fifty selections of new and established trees that may be well suited to a changing climate.
There will be a demonstration of a Clemens mechanical weeder which is now being used in orchards and tree nurseries in Ireland.
Groups will be limited to ensure every participant will have a chance to view the demonstrations and discuss practical aspects of propagation so booking early is advised.