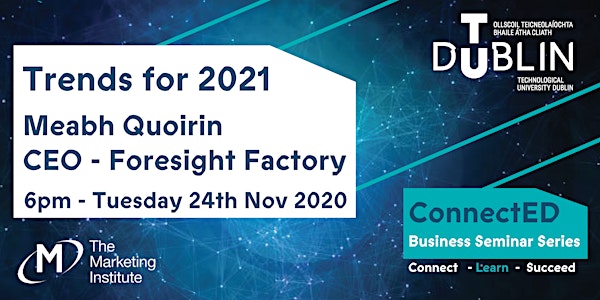 Trends for 2021 - Meabh Quoirin CEO-Foresight Factory
Trends for 2021- Meabh Quoirin, CEO Foresight Factory
About this event
TU Dublin ConnectED Business Seminar Series is hosting an online event for our Postgraduate Community on Tuesday 24th November 'Trends for 2021' with Meabh Quoirin, CEO of the Foresight Factory. Students and Alumni are invited to explore the trends that will shape our world in 2021.
Meabh Quoirin is CEO and Co-Owner of Foresight Factory, a leading consumer trends agency, providing actionable insights using algorithms and data through a trends intelligence platform and expert insight to uncover the most relevant trends.
Meabh is a pioneer in the field of consumer analytics and new data techniques and an expert in modelling new routes to the future. She has over two decades' experience in helping businesses globally put trends at the heart of their decision making.
ConnectED Business Seminar Series
This Seminar Series provides our community with an opportunity to connect with leaders in business and society and to debate current challenges and opportunities.