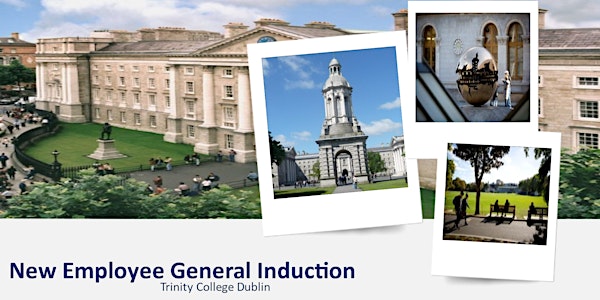 Trinity College Dublin New Employee Induction - (14/12/22) (online)
This event is for New Employees of Trinity College Dublin, the University of Dublin, and is delivered via Zoom technology
About this event
This event is for New Employees of Trinity College Dublin, the University of Dublin.
This programme is run by the HR Learning and Organisation Development Team together with key colleagues from across the University. The content is selected to provide a fast-track immersion to support you in the early stages of your work life as employees.
You will have the opportunity to meet and hear from a wide variety of colleagues from across the community. Together we learn about Trinity, and share knowledge and guidance on how, and where, to access useful services.
Some of the themes include:
Overview of Trinity College Structure, Governance and Strategic Plan
Getting Started in Trinity: Culture, Values, Performance
Overview of Learning & Development Opportunities
Trinity Social, Health & Wellbeing
It is also a great opportunity to start building networks and friendships with new colleagues as you embark on your research/professional/ administrative/technical work career in Trinity.
We look forward to seeing you there.
Notes
Manager Approval:  It is the responsibility of each individual to obtain Line Manager approval prior to confirming your attendance at this induction day. 
Accessibility:  In accordance with the University's Accessible Information Policy, the Learning and Organisation Development Team aims to provide accessible facilities for all staff. Please let us know if you have any specific needs so we can be as accommodating as possible by emailing us at staffdev@tcd.ie
Data Protection legislation, specifically the EU General Data Protection Regulation and Data Protection Acts 1988-2018, safeguards the privacy rights of individuals in relation to the processing of personal data. The data collected in this instance will be processed for the stated purposes only and deleted when no longer required. For further information on data protection compliance at Trinity College please see https://www.tcd.ie/info_compliance/data-protection/.