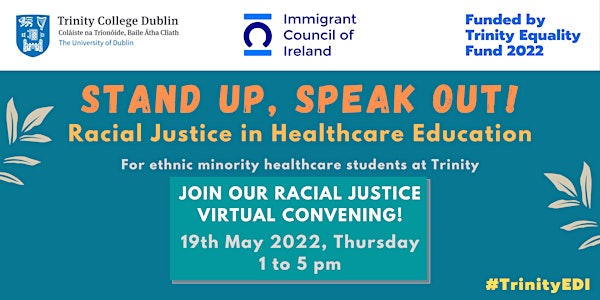 Trinity College Dublin - Racial Justice in Healthcare Education
'Stand up, Speak out!' Racial Justice Convening for minoritised ethnic healthcare students at Trinity College Dublin
About this event
Registration
Please register using Eventbrite and we will send on a participation information leaflet at a later stage. Please note that your space would not be confirmed until you have read, signed and returned the form.
Enquiry
Please contact the Project Organiser Aaron Koay (he/him) at cheechek@tcd.ie if you have any queries.
Who organised this event?
TCD Faculty of Health Sciences Equality, Diversity and Inclusion Group in collaboration with the Immigrant Council of Ireland
Who funded this event?
This project is funded by Trinity Equality Fund 2022 from the Trinity Equality Office.
Who is this for?
Undergraduate and postgraduate healthcare students across all disciplines in the TCD Faculty of Health Sciences who self-identify as being part of (a) minoritised ethnic group(s) in Ireland. This includes but is not limited to Irish Traveller, Roma, Black, Asian, Arab and mixed ethnic backgrounds.
What will it involve?
The bespoke convening will involve two parts:
1) Keynote presentations by renowned racial justice advocates, practitioners and researchers; followed by
2) Confidential breakout group discussions facilitated by TCD and ICI staff to discuss potential racial justice strategies in healthcare education (e.g. incident reporting pathways, clinical placement, curriculum content and assessment) in a safe and empowering environment.
Is there any remuneration?
As a token of appreciation for your time, each student will be provided with a €15 One4all gift card.
How many spots are available?
Only 20 - sign up quickly!
When and where?
Date: 19th May (Thurs), 2022
Time: 1 to 5 pm (Preliminary)
Venue: Zoom only
Tell me more about the event schedule?
Opening
1.00 to 1.15 – Opening remarks (TBC)
Zooming out: Racial justice in Ireland and healthcare
1.15 to 1.45 pm – Keynote 1 by Patricia Munatsi, Policy Lead at Irish Network Against Racism
1.45 to 2.00 pm – Keynote 2 by Dr Lucy Michael, Director at Lucy Michael Research, Training and Consultancy
2.00 to 2.10 pm – Break
2.10 to 2.40 pm – Keynote 3 by Dr Vibhuti Arya, Associate Clinical Professor at St. John's University, New York
2.40 to 3.00 pm – Discussion
3.00 to 3.05 pm – Break
Zooming in: What we need to do next
3.05 to 3.55 pm – Breakout group discussion 1 (Topics TBC)
3.55 to 4.00 pm – Break
4.00 to 4.50 pm – Breakout group discussion 2 (Topics TBC)
Closing
4.50 to 5.00 pm – Closing remarks (TBC)
Tell me more about the speakers!
1. Patricia Munatsi, Policy Lead at Irish Network Against Racism
"Patricia Munatsi is an international human rights lawyer, with a Master's in International Human Rights from University College Dublin and a Bachelor of Laws Honours Degree from University of Zimbabwe. She has extensive experience working in the human rights and developmental field in Africa. She is interested in policy development, social justice and equality and is currently employed by the Irish Network Against Racism as a Policy Lead where she is drafting a National Action Plan Against Racism Shadow Report."
Keynote on racism in Ireland and international students' experiences
More info about Patricia Munatsi
2. Dr Lucy Michael, Director at Lucy Michael Research, Training and Consultancy
"Dr Lucy Michael is a sociologist in practice and consultant on equality and integration issues. Her work particularly addresses racist discrimination and violence, experiences of victims, and the roles of statutory institutions and civil society in combating hate crime and exclusion. She is author (with Bryan Fanning) of Immigrants as Outsiders in the Two Irelands (MUP, 2019), and (with Samantha Schulz) of Unsettling Whiteness (Brill, 2019).
She is also a Commission Member on the Irish Human Rights and Equality Commission. Dr Michael has conducted research with a wide range of public and private sector bodies including the International Organisation for Migration, UK Home Office and European Network Against Racism. She is co-author with INAR of the iReport.ie racist incident reporting system used to map racism in Ireland. She holds a Bachelor of Civil Law degree from University College Dublin, and MA in Criminology and Research Methods and PhD from Keele University. She previously held lecturing posts at Ulster University and University of Hull, and is a former President of the Sociological Association of Ireland."
Keynote (video recording) on the Race Equality in the Higher Education Sector Report 2021 commissioned by the Higher Education Authority
More info about Dr Lucy Michael
3. Dr Vibhuti Arya, Associate Clinical Professor at St. John's University, New York
"Dr Vibhuti Arya, PharmD, MPH, is an Associate Clinical Professor at St. John's University College of Pharmacy and Health Sciences and serves as a Clinical Advisor to the New York City Department of Health and Mental Hygiene. She has worked for the past 15 years to bridge the gap between healthcare, well-being, and equity. A racial dialogue expert, Dr. Arya brings together her experiences in social justice, education, theatre, and mindfulness to create brave spaces for people and systems to intentionally work towards dismantling structural racism. She celebrates being an immigrant in Washington Heights (before it was a musical), a yoga teacher, and a generic brown woman to find ways to energize education one human at a time. In 2020, she gave a TEDx talk entitled Dark Room Methodology: Bringing Light to Structural Racism.
Dr. Arya is a former APhA-ASP National President and New Practitioner leader, helps lead the APhA-APPM Public Health SIG, and serves on the APhA Taskforce on Systemic Racism. Most recently, she received the Sustained Contributor Award from the American Public Health Association Pharmacy Section and led a team to win the MIT Hacking Racism Challenge in Social Justice & Policy. Dr. Arya is a Global Lead for Gender Equity and Diversity Workforce Development for the International Pharmaceutical Federation (FIP). She earned her PharmD from St. John's University, completed the Pharmaceutical Care Leadership Residency at the University of Minnesota, and earned her MPH from the Johns Hopkins Bloomberg School of Public Health."
What will I learn?
This is a first-of-its-kind event collaboratively delivered by international racial justice experts across academia, non-governmental organisations, policy and research. We believe this will be a transformative experience through which you will not only further your knowledge about racial justice, but also use your voice and lived experience to inform how racial justice should be achieved in the Faculty of Health Sciences. You will build confidence, advocacy skills and community networks as well as grow as racial justice advocates through community empowerment.
What impact will I make?
The confidential breakout group discussions in which you will be used to generate a bespoke report. The report, which will capture the racial justice priorities in healthcare education you and your peers highlight, will be disseminated to the Faculty of Health Sciences and the Equality Office (including the Racial and Ethnic Equality Working Group and Inclusive Curriculum Project) to embed your voices in future racial justice strategies. This will benefit future minoritised ethnic healthcare students in the Faculty.
Discussing racism might be distressing for me – what if I feel like I could not proceed further with the event?
We will establish a safety protocol which will be elaborated in the participant agreement form. We understand that discussing racism can be distressing for some people. You can absolutely withdraw from the event at any point and we will signpost various TCD services for follow-up support.
----------
Project Members
This is also an innovative project based on multi-level collaboration: 1) student-staff collaboration; 2) interdisciplinary collaboration between the School of Medicine, School of Nursing & Midwifery and Department of Sociology; 3) intersectoral collaboration between Trinity College Dublin and the Immigrant Council of Ireland. Project members are listed below.
TCD Faculty of Health Sciences EDI Group
Project Organiser & Student Co-leader: Aaron Koay, MPSI, MSc Student, School of Social Sciences and Philosophy
Staff Co-Leader: Dr Miriam Galvin, Associate Professor, School of Medicine
Lena Doherty, Faculty Administrator, Faculty of Health Sciences
Claire Murphy, Chief Technical Officer (Specialist), School of Medicine
Dr Elaine Burke, Research Fellow, School of Medicine
Olayinka Aremu, PhD student, School of Nursing & Midwifery
Immigrant Council of Ireland
Teresa Buczkowska, Integration Manager
Valéria Aquino, Integration Officer