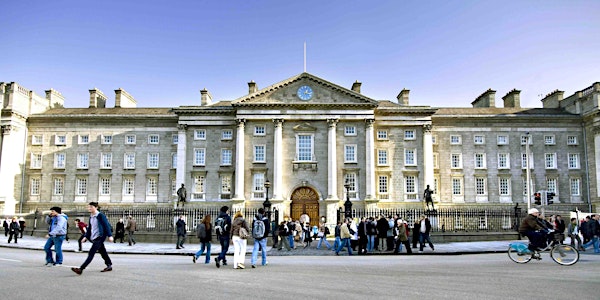 Trinity College Dublin School of Medicine Parent & Student Information Session
By Trinity College Dublin, the University of Dublin and Chinese International School
Date and time
Wed, 13 Feb 2019 18:30 - 20:30 HKT
Location
Chinese International School Room 323, Block Two 1 Hau Yuen Path Hong Kong, Hong Kong Island Hong Kong
Description
This event is a dedicated information session for parents and students from the Hong Kong region delivered by academics from Trinity College Dublin's School of Medicine. Hear all about studying Medicine at Trinity, meet the academics and have your questions answered.
The School of Medicine, Trinity College Dublin, the University of Dublin
Trinity College Dublin, founded in 1592 is Ireland's oldest and most prestigious university. Our School of Medicine ranks in the top 100 in world (QS Rankings, 2019). With a proud tradition of scholarship and research, it has made a significant contribution to development of medicine. The School, through its educational programmes, strives to be innovative, research-driven, interdisciplinary and international.
Who will be speaking?
Professor Michael Gill, Head of School
Professor Michael Gill (MD, MRCPsych FTCD) is Professor of Psychiatry at Trinity College Dublin and Consultant Psychiatrist at St James' Hospital. He developed and led the Neuropsychiatric Genetics Research Group which conducts Phenotypic and Genomic research to identify and investigate the function of genetic variation contributing to risk for major psychiatric disorders. The group has been part of several significant discoveries in recent years published in journals such as Nature, Nature Genetics, Archives of General Psychiatry and the British and American Journals of Psychiatry. Professor Gill is a member of the steering group iof the Psychiatric Genomics Consortium and a lead investigator on the international PGC3 award, focusing on whole genome sequencing of large pedigrees segregating psychiatric disorders. From 2011 to 2017 he was Director of the Wellcome/HRB Clinical Research Facility at St. James' Hospital which opened in 2013. He is a Board member of the Trinity College Institute of Neuroscience, Clinical Research Development Ireland and Empower the User, a spinout in the soft skills space. In 2016, Professor Gill led a successful bid to establish the Wellcome HRB Irish Clinical Academic Training (ICAT) Programme involving six universities; the postgraduate training bodies in the North and the South and the HSE-NDTP and HSC. In July 2017, he was appointed as Head of the School of Medicine at Trinity.
Professor Martina Hennessy, Senior Lecturer in Medical Education and Director of Intern Education
Professor Martina Hennessy is a clinical pharmacologist and consultant physician at St James's Hospital Dublin with clinical expertise in hypertension, cardiovascular risk and medication safety and research interests in antiretroviral pharmacology, international development and medical education. Prof. Hennessy is an Associate Professor in the School of Medicine, Trinity College Dublin and recently took over from Professor Michael Gill as the Director of the HRB/Wellcome trust funded CRF at St James's. The CRF is a collaborative partnership between Trinity College Dublin and St James's hospital.
Dr. Alex McKee, School Manager
Dr. Alex McKee received his BA and PhD in Genetics from Trinity College Dublin. As a research fellow Alex worked on neuropsychiatric genetics and gene therapy, investigating the role of genes in memory and learning. In 2012 he moved to TCD finance, managing the University's portfolio of research projects. In 2017 Alex took on the role of manager of the School of Medicine, supporting the day to day running of the school, as well as long term strategic management and development.
About the organiser
The Office of the Vice President for Global Relations is the gateway between Trinity College Dublin and our community of international students, institutional partners, academic collaborators and alumni network. As Ireland's oldest and highest-ranking university, Trinity strives to educate global citizens who will shape the world's future. Our office is committed to strengthening Trinity College Dublin's global profile through international student recruitment, supporting academic and student mobility, building strategic partnerships and encouraging alumni engagement.