Description
The Library of Trinity College Dublin (TCD) has been cultivating an open innovation research model in partnership with a number of Trinity research centres. The ADAPT Centre and the Library are pleased to showcase some of the novel library technology related research being undertaken by TCD students and staff.
The showcase will be of interest to information professionals, librarians, archivists, computer scientists, and those working in digital humanities.
This is a highly interactive event and attendees are strongly encouraged to engage with the tech projects on display. Light refreshments will be served throughout the morning.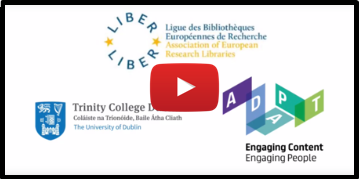 *Please note, if you have already registered for this event via the LIBER Conference registration, you are not required to register again here.
Schedule
09.00 – 09.15 Welcome + Opening Remarks
09.15 – 10.00 Research Pitches Session 1
10.00 – 10.45 Tech Demonstrations
10.45 – 11.30 Research Pitches Session 2
11.30 – 12.15 Tech Demonstrations
12.15 – 12.30 Wrap up + final remarks
Speakers
1. Dr. Joeran Beel - Mr DLib: Related-Article Recommendations for Digital Libraries As A Service.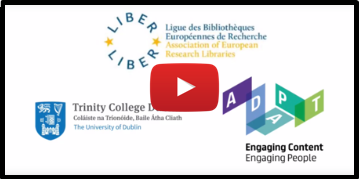 "Mr DLib" is a non-profit open-source project to provide recommendations-as-a-service for research articles, call for papers, and academic news. Mr DLib was originally developed as a Machine-readable Digital Library and is run by researchers from the Trinity College Dublin, and the University of Konstanz.
Mr DLib enables research libraries to easily integrate a recommender system into their platforms, and hence make information more accessible for everyone. It offers three services:
Recommendations-as-a-service (RaaS) for operators of academic products
Academic outreach for providers of academic content
A real-world research environment for students and researcher
Dr Joeran Beel is Assistant Professor in Intelligent Systems at Trinity College Dublin, and member of the ADAPT Centre. His research focuses on machine learning, text mining, and natural language processing in areas including recommender systems, search engines, and plagiarism detection. Many of Joeran's research and projects are conducted in the context of digital libraries.
2. Joe Lakes - Digital Collections: Unlocking access to the Library's Treasures.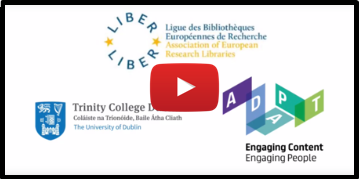 The Library of Trinity College Dublin's Digital Collection's Repository is an open source and Fedora Commons based repository through which access is provided to the Library's digitised collections. A project is currently underway in the Library to replace this end-of-life digital collections software with an integrated service implemented using Hyrax Samvera (front end) and Fedora Commons (repository software). We will describe the approach taken to replace the service, the software used, and future development plans. During the demonstration we will provide participants with the opportunity to view and interact with the test version in development. Digital Collections delivers the Library's strategic goal to open up unique collections for global access and to stimulate new research.
Joe is a computer science graduate from Trinity College with over thirty years' IT development experience. He completed a masters in Multimedia Systems in TCD in 2008 and has an interest in the social and cultural application of technology. He joined the library in Trinity College in August 2018 with a brief to replace the aging Digital Collections infrastructure.
3. Lucy McKenna - NAISC: A Linked Data Interlinking Approach for the Library Domain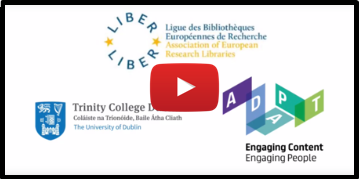 The Novel Authoritative Interlinking of Schema and Concepts, or NAISC, approach describes an interlinking framework, provenance model and graphical user-interface that has been designed with the needs and expertise of information professionals in mind. The aim of NAISC is to facilitate information professionals to engage in the process of Linked Data interlinking with greater ease, efficiency, and efficacy.
The purpose of LD interlinks are to enhance the knowledge associated with a specific Thing, or entity, such as a person, place, concept or object. These links have the potential to transform the Web into a globally interlinked and searchable database rather than a disparate collection of documents. Datasets that are rich in interlinks allow for improved information discoverability, with users being guided to a wealth of related information from a single data search.
Lucy is a PhD student in the ADAPT Centre, Trinity College Dublin. Her research is in the area of Linked Data for libraries, with a particular focus on engaging information professionals in the process of interlinking Linked Data entities. Lucy received a Masters in Library and Information Studies from UCD in 2015.
4. Gary Munnelly - Digitally Exploring Fantasy Worlds: Which Way to the Ankh-Morpork Post Office?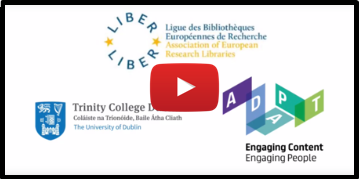 This work looks at both analyzing and actualizing fantasy literary works in ways can help people to gain new perspectives on the nature of the texts, but also interact with these fantasy worlds by novel means.
Gary is a PhD student in the Adapt Centre, Trinity College Dublin. His research focuses on the use of Entity Linking for the automatic extraction and organisation of entities found in cultural heritage materials such as primary source historical records or literary works.
5. Kieran Fraser and Bilal Yousuf - Push-Notifications and Visual User Control: Scrutable, Persuasive & Personalised
Communications between libraries of the future and their users, aspire to be increasingly intelligent, contextually relevant and empathetic toward users cognitive state. One such tool for empowering such smart communications are push-notifications.

This work explores how push-notification delivery and transparency can be improved through the extraction of persuasive features. A method of generating personalised notifications derived from user data is proposed and the results show how engagements with these generated notifications can increase the Click Through Rate.

Libraries can leverage these methods to nudge users when a library resource becomes contextually relevant to a user based on features such as: the user's current interests, activity, job, previous library engagements etc.
This would enlighten users to resources which could help them in their current state while also actively promoting further engagement with the library and the valuable resources it holds.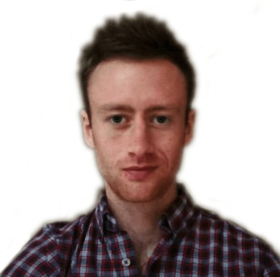 Kieran is currently undertaking a PhD in Computer Science at the ADAPT Centre, Trinity College Dublin. His research is in the field of Personalisation and current work includes Mobile Notification Management through Ubiquitous Data Modeling and Context-aware computing.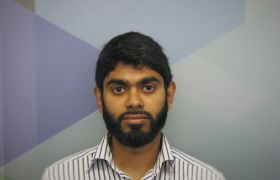 Bilal is a post-doctoral research fellow at the ADAPT Centre, Trinity College Dublin. His research focuses on the area of visual presentation and exploration of data in Online Learning Environments, visual narratives and personalisation. Bilal's PhD thesis focused on the generation of explorable visual narratives and their presentation.
6. Jeremy Debattista - Understanding Information Professionals: A Survey on the Quality of Linked Data Sources for Digital Libraries
In this presentation we discuss the experiences of Information Professionals (IPs) with regard to Linked Data quality. We highlight the shortcomings in terms of quality in linked data sources and the quality considerations taken by IPs when searching for such sources for their daily tasks such as metadata creation. Later on we demonstrate a new proof-of-concept linked data search tool which enables IPs to identify the best quality measures for an interlinking task in order to rank various linked data sources based on their quality.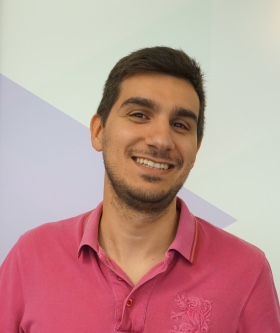 Jeremy is a research fellow in the Knowledge and Data Engineering Group and ADAPT Centre. He holds a PhD in Computer Science from the University of Bonn. His thesis addressed data quality issues in Linked Data, looking at techniques to efficiently assess large linked datasets and modelling of quality metadata.