truDublin - The Recruitment Unconference

Monday, May 27, 2013 from 9:30 AM to 5:30 PM (IST)
Event Details

#TruDublin 
Mark Monday May 27th in your diary as a must-attend conference for every Recruiter and HR practitioner, as the tru Recruitment Unconference hits Dublin again. In this, our fourth, Unconference in Dublin, we have HR and Recruitment heads and expert thought-leaders from giant tech organisations and start-ups to hundred-year old companies who're integrating smart recruitment techniques and innovating in this space. 

The unconference is structured with concurrent tracks started by our track leaders, and the conversation will continue with you and your fellow peers sharing best practice and debate. 
Agenda

 

Track Leaders

Track Discussion

09:30-10:15

Paul Lanigan

 (Sigmar Recruitment)

Are Permanent Employees a thing of the past?

Bill Boorman (truEvents)

Postcard from America: Recruiting Innovation

Lisa Jones (Barclay Jones)

Are Recruitment Agencies Anti-Social?

10:15-11:00

Padraic McMahon (LinkedIn)


Bringing Sexy Back (with data!)

Morgan Pierce (ReferStar)

What's wrong with non-Employee Referrals?

Jennifer Kennedy (TMP Worldwide)
Identifying Employment Branding Metrics & Finding Solutions
Aki Kakko (Joberate)
Mobile: An Experience, Not Just A Screen Size

11:00-11:15

Break & Networking

11:15-12:00

Dave Hazlehurst (@googledave)

How to hire staff for under €90 per hire

Peter Cosgrove (CPL)

Computers make recruiters worse, not better!

Gordon Lokenburg (eBuddy)

What people sourcing does to mankind

Vincent O'Donoghue (Social Talent)
Your IT Department Is Holding Your Recruiters Back

12:00-12:45

John Dennehy (Zartis)
Country Branding: Ireland, a Case Study

Jarlath Dooley (Version1) 
How fixing Employee Engagement doubled Employee Referrals
Holly Fawcett (Social Talent)

Working for Free

Johnny (Social Talent), Gordon (eBuddy) & Shane (Intelligence)

Cool Tools for Recruiting

12:45-13:45

Lunch

13:45-14:30

Michelle Fogarty (Twitter) 


Recruiting for Culture: Why you should always interview in fancy dress!

Caroline Kennedy (NCI)

What do employers want from Graduates and Colleges?

David Stott (Bullhorn)

Social Recruiting: Limitless Possibilities, Limited Return!

14:30-15:15

Marina Morrissey(Sigmar) & Jane Babb (Arthur Cox)


Graduates: The Opinionated Generation or Generation Me?

Clare Mulligan (Clare Mulligan Consulting) 

Cultural Diversity in the Workforce

Deirdre O'Sullivan (Enovation) & Tony Fernandez (The Now Factory)
Playing with the big boys: How Irish startups compete for talent 
Lisa Jones (Barclay-Jones) & Peter Cosgrove (Cpl)
Should Recruiters Be Bloggers?

15:15-15:30

Break & Networking

15:30-16:15

Johnny Campbell (Social Talent)

Are Machines Smarter than Recruiters?
Bill Boorman (truEvents)
Everyone's an Active Candidate
Shane McCusker (1ntelligence)

Recruiters don't care about Candidate Experience

Ivan Stojanovic (JobsBoard.ie)
How can mapping software help your recruitment?

16:15-17:00

Rowan Manahan (Trainer & Coach)
'I didn't sign up for this shit' : How disillusionment starts at the Interview (Group Track)
What is The Recruiting Unconference?
The Recruiting Unconferences or TRU Events are a series of pure unconferences organised worldwide, where the emphasis is on conversation, communication and the free exchange of ideas and experiences, (dis)organised by Bill Boorman. Recruiting Unconferences are based on the unconference or BarCamp principle, this means that everybody can be an active participant instead of listening to speakers and watching presentations all day. TRU events have proven to be a great way to learn a lot in a very short time, but also to meet new people and network.
With kind thanks to our TruDublin Sponsors: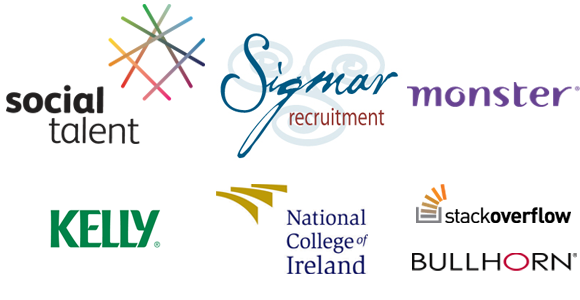 The Line-Up so far:
EMEA Talent Solutions, LinkedIn

EMEA Sales, Bullhorn

"Google Dave", Ph.Creative

Head of HR, EMEA, Twitter

 

Business Dir, TMP Worldwide

Author, "Where's My Oasis?"

Head of HR, Version1

Director, Sigmar Recruitment

Organisational Psychologist

Director, CPL

CEO, ReferStar

#tru Founder

 

CEO, Social Talent

 

 

 

 

 
When & Where

National College of Ireland


Ireland


Monday, May 27, 2013 from 9:30 AM to 5:30 PM (IST)
Add to my calendar
Organizer
SocialTalent the leading global solution changing how people work and how companies measure their Return on Learning (RoL). As the preferred learning and measurement solution for global companies such as Manpower, Oracle, Cisco, Randstad, Intel, Dell and many others, the SocialTalent platform offers real time data analysis to help companies and managers track the progress of their teams. Our library of +2200 bite-sized videos is delivered in real time triggers to people as they work; enabling companies to measure changes in behaviour and encourage their behaviour through rewards. To find out more about how we do it visit us at www.socialtalent.co.