#truZagreb

Thursday, 9 June 2016 from 09:00 to 17:00 (CEST)
Event Details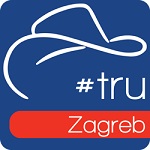 Irish Recruiter Vam s ponosom predstavlja #truZagreb!
TRU - The Recruitment Unconference će se po prvi puta održati u Zagrebu u četvrtak, 9. lipnja 2016. od 9 do 17 sati u Zagreb 360° prostoru.
TRU je međunarodni događaj te će se razgovori voditi na hrvatskom ili engleskom jeziku. Bez brige, čitav dan možete po želji provesti koristeći samo hrvatski!
The Recruitment Unconference je za sve koji su na bilo koji način vezani za zapošljavanje ili brigu o ljudskim potencijalima, marketing i branding u zapošljavanju, koji pružaju usluge ili softwerska rješenja za Recruitment, Human Resources, Talent Sourcing i sl.  TRU je idealan za razmjenu iskustava, praktičnih ideja o rješavanju problema i o tome kako bolje i lakše zapošljavati, a posebno za sticanje novih znanja.
Detalje o temama i voditeljima ćemo objaviti uskoro, a među njima su svakako Bill Boorman (TRU osnivač) i Ivan Stojanović (Irish Recruiter).
Što je TRU?
TRU je skup umova, na kojem u opuštenoj atmosferi možete razogvarati o temama vezanim za Vašu struku, podijeliti svoja iskustva i mišljenja, steći pregled aktualnih trendova i uvid u tehnologije i trendove skore budućnosti.

Na TRU dolaze HR profesionalci, agenti za apošljavanje, poslodavci i agencije koji traže ljude, marketing i branding stručnjaci, predstavnici web portala za poslove, HR softwerskih kuća i svi koji žele sudjelovati, bez ograničenja.
Format TRU događaja je jednostavan i stvara idealne uvjete za otvorenu komunikaciju između svih sudionika.
Razgovori na odabrane teme (Track) vode se u krugu bez stola, podijuma ili govornice, svi sudionici sjede na istom nivou i ravnopravno sudjeluju. Svaki Track ima svog voditelja (Track Leader) čija je uloga da pokrene i dalje potiče razgovor, te na kraju zaključi temu. Teme su obično ponuđene unaprijed, ali se isto tako mogu promijeniti tijekom dana, ovisno o doprinosima sudionika i njihovom interesu.
TRU je neformalan skup gdje gotovo sve prolazi osim: prezentacija, PowerPoint slajdova, bedževa sa imenima i aktivne prodaje.
Svaki Track prosječno traje 45 minuta, te ih se nekoliko održava istovremeno. Sudionici se mogu slobodno kretati od jednog do drugog po valstitom nahođenju, nema potrebe slušati razgovor koji vas trenutno ne zanima. TRU je poput švedskog stola – slobodno odaberite što Vam se od ponuđenog sviđa, probajte i nastavite dalje!
Poseban dio TRU događaja je Show & Tell gdje možete iz prve ruke saznati sve o novim tehnologijama u području HR-a i zapošljavanja, uz demosntraciju uživo.
Kako sudjelovati?
Pridružite nam se kao sudionik, Track Leader, Show&Tell Presenter ili sponzor.
Ulaznice za posjetitelje dostupne su ovdje, a za sve ostale načine sudjelovanja obratite nam se direktno na hello@irishrecruiter.com!
TRU je uvijek praćen na društvenim mrežama, što može doprinjeti i vašem osobnom i brandingu vaše organizacije.
Saznajte više na našim stranicama te odlučite da li je truZagreb za Vas!
http://www.irishrecruiter.com/truzagreb-360-informacije/
When & Where

Zagreb 360° - Zagreb Eye
1A Ilica
10000 Zagreb
Croatia


Thursday, 9 June 2016 from 09:00 to 17:00 (CEST)
Add to my calendar
Organiser
Talent Sourcing and IT recruitment services - from Talent sourcing, Candidate screening, conducting Technical tests, to organising Recruitment events in-country and abroad, we tailor our approach to the needs of each company we work with.
Flexible Service Model - tailor-made services to suit your needs based on a competitive placement fee model or fixed-fee Sourcing Services.
Specialised IT services for your business - Recruitment Agency Website creation, support and maintenance, Domain registration and Web hosting, Email  set-up, Network set-up, Recruitment Marketing Consultancy