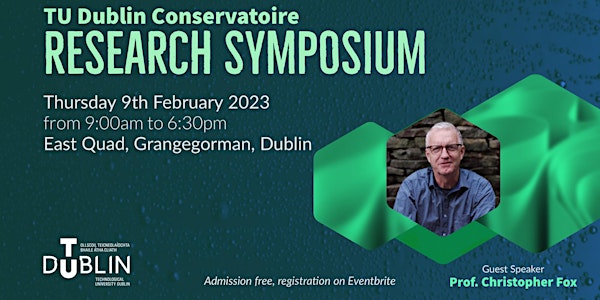 TU Dublin Conservatoire Research Symposium
TU Dublin Conservatoire, Research Symposium
When and where
Location
TU Dublin, East Quad Grangegorman Lower D07 XFF2 Dublin 7 Ireland
About this event
About
TU Dublin Conservatoire's Research Symposium Series celebrates and highlights the research activities at TU Dublin Conservatoire, and provide an opportunity for staff, students, graduates, and visiting. scholars and performers to share their research and practice.
Today we look forward to papers and performances by research students on our Master of Philosophy (MPhil), Doctor of Philosophy (PhD) and Doctor of Music in Performance (DMus) degree programmes. We are delighted to welcome the composer, writer and lecturer, Christopher Fox as our guest speaker, and classical guitarist Andrea De Vitis for the lunchtime recital.
TU Dublin Conservatoire has developed an active research profile in the areas of musicology, performance, music education and composition. The Conservatoire is also home to the Research Foundation for Music in Ireland. Our staff and students produce a wealth of research outputs that make a significant contribution to our understanding and knowledge of the creative and performing arts.
Tickets are free.
Time: 9.00am-6.30pm
Date: Thursday 9th February.
Symposium Schedule
9:00am-10.30am Session 1
Yue Song Senses: The delicate qualities of strings
Ian Cecil Scott Pitch Class Set: Redundancies and vector integrity issues
Kevin Free Rockwell Automations Retro Encabulator: A look into speech melody
10:30am Tea/Coffee Break
11.00am Keynote Address: Professor Christopher Fox
Innovation and sustainability in new music
12:00pm Lunch Break
1:10pm-2:00pm Lunchtime Concert: Andrea De Vitis (classical guitar)
Music by Murail, Ramelli, Gilardino and Bach
2:15pm-4:15pm Session 2
Aileen Cahill Mille-feuille: An exploration of the layering processes that occur in mental practice in music performance preparation
Sandra Oman-Farren Puccini's Manon Lescaut: An examination of the dramatic challenges of the role through the lens of the lived experience of nine international interpreters of the opera
Helen Doyle An exploration of choral activity in the Dublin Feis Ceoil, 1897-1932
Roddy O'Keeffe The Guinness Choir: The foundation years, 1951-1963 
4:15pm Tea/Coffee Break
4:45pm-6:15pm  Session 3
Stefano Moccetti Alfred Heinrich Loreti: An unknown Swiss composer 
Enrica Savigni J. K. Mertz and J. Plantin's repertoire for piano and guitar:  
context, performance and transcription 
Ella Fallon Automne: An examination of Cécile Chaminade's approach to recorded performance 
6:30pm Closing Remarks