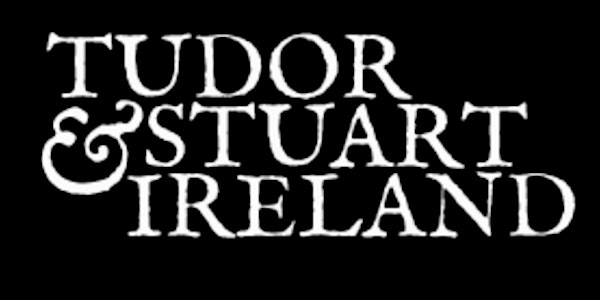 Tudor & Stuart Ireland Conference 2022
The 10th Tudor & Stuart Ireland conference takes place at the Royal Irish Academy, Dawson St, Dublin on 19-20 August 2022
When and where
Location
The Royal Irish Academy 19 Dawson Street D02 HH58 Dublin 2 Ireland
Refund Policy
Contact the organiser to request a refund.
About this event
Friday, 19 August
11.00-11.45
Registration
11.45-12.00
Welcome
12.00-13.30
Session 1A
Melissa Shiels (University College Cork): Shane O'Neill: Diplomacy and Material Culture
Karen Holland (Providence College, Rhode Island): The Politics of Attire:The Sidneys' Elizabethan Gift Exchanges 1559, 1568, and 1579
Tadhg Ó hAnnracháin(University College Dublin): Mobility and the evolution of confessional identity in Early Modern Ireland
Session 1B
Evan Bourke (Maynooth University): Visualising the early modern Dictionary of Irish Biography
Tom Herron (East Carolina University): Castle to Classrooms: teaching Kilcolman Castle in Virtual Reality
Neil Johnston (The National Archives, UK):The Virtual Record Treasury of Ireland: A critical consideration
13.30-14.30
Lunch
14.30-16.00
Session 2A
Coleman Dennehy (University College Dublin): Gaols and gaol-breaking in early modern Ireland
Emma Lyons (University College Dublin): 'Why mourne you so, you that be widdowes?': Widows' inheritance in seventeenth-century Ireland
Bríd McGrath (Trinity College Dublin): The Compilation of the Journals of the Irish House of Commons, 1613-15
Session 2B
Michael Keane (Independent): The Earls of Castlehaven
David Heffernan (University College Cork): The Great Miser: Richard Boyle, first earl of Cork, and the Grand Tour of Lewis and Roger Boyle
Therese Hicks (Independent): An Illustration of Dublin Networking in the 1620s &'30s: Robert Kennedy
16.00-16.15
Break
16.15-17.30
Plenary Lecture
Professor Brendan Kane (University of Connecticut): Political thought and practice from the Irish-language perspective: nach cuma faoi?
19.00
Conference Dinner: Trocadero Restaurant (limited availability)
Saturday, 20 August
9.30-11.00
Session 3A
Stuart Kinsella (Christ Church Cathedral): Who inspired the woodcuts of Derricke's 1581 Image of Irelande?
Naomi McAreavey (University College Dublin): Hunger Trauma and the 1641 Depositions
Elaine Murphy (University of Plymouth): Escaping from Danger: fleeing from Ireland by sea during the seventeenth-century
Session 3B
Simon Egan (Trinity College Dublin): Revisiting the Royal Pretenders: Simnel, Warbeck, and the wider Gaelic World
Ruth Canning (Liverpool Hope University): Conduct Unbecoming: Crown Soldiers in 1590s Ireland
John Young (University of Strathclyde, Glasgow): An army in distress. The Covenanting army in Ireland and the wars for the three kingdoms
11.00-11.30
Break
11.30-13.00
Session 4A
Brian MacCuarta (University of Oxford): From Irish Protestant to Jesuit novice: Francis Slingsby and Rome, 1633-42
John Kelly (Independent): The final journey of the effigy of Robert Hartpool, Constable of Carlow Castle
Tim Heanue (Kylemore Abbey & Gardens): The nuns of Kylemore Abbey and their connection to James II
Session 4B
Caoimhe Whelan (Trinity College Dublin): Tudor Antiquarianism: History and Fiction
John Marshall (Trinity College Dublin): 'Legitimising Tudor and Stuart rule in Ireland: the thirteenth century Marshal Partition as early modern propaganda'
Kevin Gerard Tracey (Maynooth University): 'Let us rescue notable matters from the forgetfulness of man': Ireland as an Exile's Ecological Chronotope
13.00-14.00
Lunch
14.00-15.30
Session 5A
Charlie Taverner (Trinity College Dublin): Dining at Dublin Castle: food and power in a sixteenth-century lord deputy's household accounts
Raymond Hylton (Virginia Union University): "The Most Horrid Crime Committed Since the Death of the Prince of Glory": Trauma, Treason, Monarchist Persistence, and Accounting for the Failure of Ormondite and Pre-Ormondite Settlements of French Protestants in Ireland.
Benjamin Hazard (University College Dublin): 'A dedicatory epistle addressed to Bernard O'Conor Phaly, 1761'
Session 5B
Steven Ellis (NUI Galway): Creating the south Dublin military frontier under the early Tudors
Sean Cunningham (The National Archives, UK): Understanding, Co-operation and Control? Richard Edgcombe and Henry VII's plans to rule in Ireland during the first years of Tudor kingship.
Paul Duffy (University of Leicester): Digging the Dissolution
15.30-17.00
Session 6A
Alan Ford (University of Nottingham): A Fragment Fallen from Ancient Time': St. Patrick's Purgatory and Confessional History
Annie Khabeza (University College Dublin): "[He] hath strayed from the truthe all the heavens wyde": Kinds of authority in Edmund Spenser's View on the Present State of Ireland and Richard Stanihurst's Plain and Perfect Description Of Ireland
John McCafferty (University College Dublin): '"Sparkles of divine light": talking to God in early modern Ireland
Session 6B
Patrick Little (History of Parliament Trust): Conning the Cromwellians: the secret devotional life of the 2nd earl of Cork in 1650s Ireland
Lucia Pereira Pardo & Louise O'Connor (The National Archives, UK & National Library Ireland): Understanding colour in Tudor and Stuart Ireland. Analysis of the colourants used in 16th-17th century Irish maps and heraldic manuscripts
Jason McElligott (Marsh's Library): Books for old soldiers: Creating a library at the Royal Hospital Kilmainham, 1712-14
17.00
Close