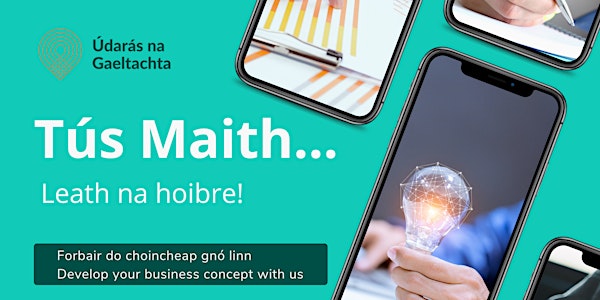 Tús Maith…Anailís Mhargaidh/Market Analysis
Tús Maith... Anailís Mhargaidh - Gnéithe margaidh ar chóir díriú orthu Tús Maith...Market Analysis - Key elements to focus on
About this event
"Tús Maith..." is the name of the Údarás na Gaeltachta Business Concept Development Programme. Please see our event page to register for our other events.
This session focuses on the key elements you need to consider when developing your business concept and plan. Dr Ann Torres, Senior Lecturer in Marketing at J.E. Cairnes School of Business and Economics alongside Ivaylo Borisov of NUI Galway will discuss models for market analysis, where to look for the data to carry out analysis, and where to locate free resources for market analysis.
We will also be joined by Linda and Dara from Nuasan, Active skin and body care range. Nuasan recently launched their brand in January 2020, after 4 years of research. They will provide our listeners with their experience with market analysis and research while developing their business concept and brand.
Is Clár Forbartha Coincheap Gnó is ea Tús Maith…atá eagraithe ag Údarás na Gaeltachta chun smaointe gnó a fhorbairt. Féach ar ár leathanach ócáide chun clárú do na himeachtaí eile atá againn.
Díreoidh an ócáid seo ar na gnéithe a chaithfear a thabhairt san áireamh nuair atá coincheap agus plean gnó á fhorbairt. Déanfaidh an Dr Ann Tores, Léachtóir Sinsearach i Margaíocht ag J.E. Cairnes School of Business and Economics, agus Ivaylo Borisov as OÉ Gaillimh plé ar na múnlaí d'anailís ghnó atá ann, cá rachaidh tú le sonraí a fháil chun anailís a dhéanamh agus cá bhfaighidh tú acmhainní saor in aisce chun anailís mhargaidh a chur i gcrích.
Beidh Linda agus Dara linn uaidh Nuasan, comhlacht cúram cnis. Is le gairid in Eanáir 2020 a sheol Nuasan a mbranda tar éis 4 bliain de thaighde. Déanfaidh siad cur síos don lucht féachana ar a dtaithí le hanailís mhargaidh agus taighde agus iad ag forbairt a gcoincheap gnó agus a mbranda.