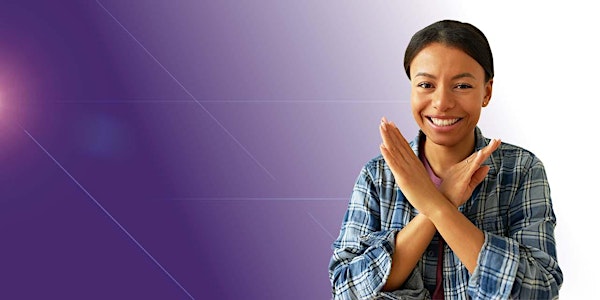 UCC - International Women's Day 2022 - Climate x Gender Equality Panel
University College Cork - International Women's Day 2022 - #BreaktheBias Climate x Gender Equality Panel Discussion
About this event
To mark International Women's Day 2022, University College Cork (Mná Women's Network, Equality, Diversity & Inclusion Unit & Green Campus) invites you to attend a panel discussion on Climate x Gender Equality.
Climate change and its consequences are a daily reality for millions of people around the world. Women and girls already face inequality and discrimination due to the gender. It is recognised that change-related crises compound this inequality, with some of the poorest and most marginalised women and girls in the world facing adverse effects. This IWD 2022, we want to address this issue and #BreaktheBias around this important topic. Our experienced panel of practitioners, thought leaders and researchers will discuss practical ways to better the lives of women and girls both here in Ireland and in the wider world.
Time, Date & Format: 12:00-13:00, Friday 4 March 2022 (Microsoft Teams)
For any queries contact ediunit@ucc.ie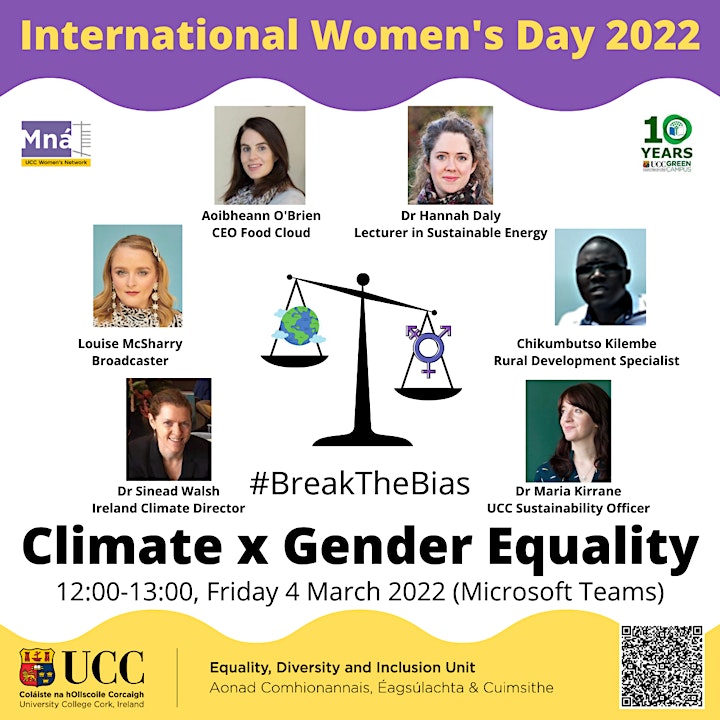 Panellists:
Dr. Hannah E. Daly, Lecturer in Sustainable Energy
Dr. Hannah Daly is a lecturer in Sustainable Energy at University College Cork. She leads research within the SFI MaREI Centre on sustainable climate mitigation pathways. She communicates this research extensively, as a member of the Irish Climate Change Advisory Council's Carbon Budgets Committee and advisor to policymakers and the media on climate mitigation. A passionate educator, she is currently supervising five PhD students, coordinates and delivering four modules, and was a winner of the 2021 UCC President's Award for Excellence in Teaching. She formerly worked with the International Energy Agency Paris and University College London Energy Institute.
Dr Maria Kirrane, UCC Sustainability Officer
Dr Maria Kirrane is the Sustainability Officer for University College Cork. In this role she oversees the development and implementation of the university's sustainability and climate action strategies. She works across the university's academic, research, operations and engagement functions to promote action and leadership on issues of environment and sustainability. She holds a PhD in Zoology. She is the first Sustainability Officer appointed in an Irish University.
Chikumbutso Kilembe, Irish Aid Climate Advisor Malawi
Chikumbutso Kilembe is Climate Advisor for Irish Aid Malawi, where he is responsible for programmes that address issues of vulnerability mainly in the areas of Livelihoods/Resilience, Disaster Risk Reduction, Energy and supporting Humanitarian response. He previously worked for Christian Aid as their Climate Change Adaptation Officer and the Malawian Department of Agriculture and Food Security as Agriculture Gender Roles Extension Support Services Officer.
Aoibheann O' Brien, CEO Food Cloud
Aoibheann O'Brien is co-founder and Partnerships Director of the award winning social enterprise FoodCloud. FoodCloud have established two national solutions for food redistribution in Ireland – a network of three food banks that redistribute large quantities of surplus food across Ireland and a technology solution that connects food businesses directly to local charities. FoodCloud's technology is also being used in the UK, Central Europe and Australia to support similar organisations to grow their impact. Aoibheann was the recipient of the Social Entrepreneurs Ireland Impact award and Green Entrepreneur of the Year in 2014. In 2017, Aoibheann received the EY Entrepreneur of the Year Special Achievement Award and was named the overall winner of the IMAGE Businesswoman of the Year Award. In 2018 she also received a Humanitarian Award from the Irish Red Cross. She is a board member of Grow It Yourself (GIY) Ireland
Dr Sinead Walsh, Ireland Climate Director
Dr Sinead Walsh is Ireland's Climate Director since 2020. Prior to this she served as the EU Ambassador to South Sudan. She has worked for Ireland's Department of Foreign Affairs since 2009. She was a Senior Fellow at the Harvard Humanitarian Initiative in 2016/17. Prior to this, she served as the Ambassador of Ireland to Sierra Leone and Liberia and the Head of Irish Aid in the two countries, based in Freetown from 2011 to 2016. She has also worked in DFA HQ roles on multi-lateral organisations, international financial institutions and civil society engagement.
Before joining the government, Sinead spent ten years in the NGO sector, predominantly with Concern Worldwide, working in India, Pakistan, Rwanda and South Sudan, as well as in a global advocacy role. She has a BA from Harvard University, an MSc in Development Studies from University College Dublin and a PhD in Social Policy from the London School of Economics. She is the co-author of Getting to Zero: A Doctor and A Diplomat on the Ebola Frontline, published by Zed Books in 2018.
Moderator:
Louise McSharry, Broadcaster
Louise McSharry is a broadcaster and writer from Dublin. Louise worked in radio for nineteen years, starting out as a researcher in Newstalk before moving to presenting in iRadio followed by eleven years on air on RTE 2FM.
Her memoir Fat Chance: My Life in Ups, Downs and Crisp Sandwiches was published by Penguin Ireland in 2016. Louise writes a weekly beauty column for the Irish Independent's Weekend Magazine, and regularly contributes to the paper's Opinion page. Her writing has also appeared in The Irish Times, The Sunday Business Post, The Sunday Times Style Magazine, Buzzfeed.com, ThePool.co.uk, TheStrategist.co.uk, and TheJournal.ie among others.
Louise hosts a weekly podcast 'Catch Up with Louise McSharry', which aims to catch people up on news and culture, offer recommendations for music, television and other art forms, and also features short interviews with relevant or interesting people.