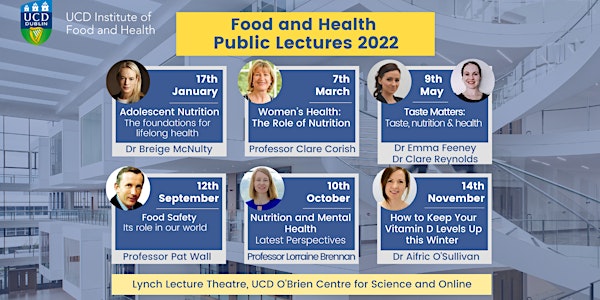 UCD Food and Health Public Lectures 2022
We return in 2022 with our popular Public Lectures in Food & Health with some new talks and a revisit of some of our previous hot topics
About this event
The world of social media provides an overwhelming amount of information on food and nutrition. Often this information can be misleading and, in some instances, harmful to people's health. For the average person, it is difficult to know whether this information is fact or fiction.
The UCD Institute of Food and Health is an international leader in food and health research focusing on Food Safety, Food Sustainability, Primary Production Systems, Innovative Processing & Food Quality, and Nutrition & Health. Communicating sound, factual scientific-based evidence is an integral part of our work. For our 2022 series, we present a number of new topics and revisit some of our more popular talks with the latest scientific knowledge and advances in the area.
The lectures will be streamed live via Zoom. Registration is essential and a link will be sent in advance of each lecture with login details.
Monday 17th January – Adolescent Nutrition- the Foundations for Life Long Health. Dr Breige McNulty (Please note that this lecture will be delivered by Zoom only)
Monday 7th March - Women's Health: The Role of Nutrition. Prof Clare Corish
Monday 9th May - Taste Matters - Taste, Nutrition & Health. Dr Emma Feeney & Dr Clare Reynolds
Monday 12th September – Food Safety - Its Role in our World. Prof Patrick Wall
Monday 10th October - Nutrition & Mental Health - Latest Perspectives. Prof Lorraine Brennan
Monday 14th November - How to Keep Your Vitamin D Levels up this Winter. Dr Aifric O'Sullivan
This is a free event and is open to all.