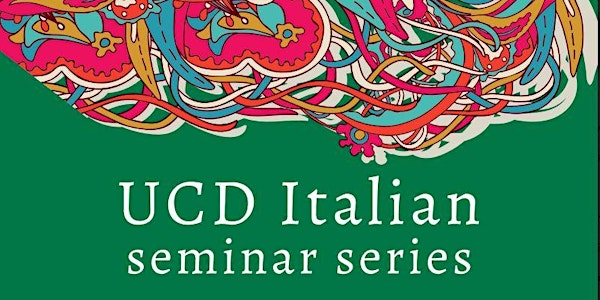 UCD Italian Seminar Series
Welcome to the UCD Italian Seminar Series 2022/23.
About this event
We're delighted to present a programme of online and hybrid research seminars featuring scholars working across different areas of Italian Studies and related interdisciplinary fields.
Seminars will run each month throughout 2022 and 2023 with our first event taking place on November 7th 2022. Please see below for details of individual events happening this term.
Zoom links will be circulated to registered participants via email at least 24 hours prior to the date of the event.
The programme of speakers for term 2 will be published here in January 2023.
7 NOVEMBER - 5.45 pm (HYBRID)
PAOLO SAPORITO, UCC
The Environmental Ethics of Antonioni's L'eclisse
Dr Saporito's presentation will be followed by a screening of L'eclisse (Michelangelo Antonioni, 1962).
The presentation will take place in person at UCD (C216, Newman Building) with the possibility of joining via Zoom for those who wish to participate remotely. The Zoom link for the presentation will be circulated via email. The screening of the film will only be accessible to those attending in person.
28 NOVEMBER - 5.30 pm (ONLINE)
DALILA MISSERO,
Lancaster University
Cinema Memories as Transnational Practices: A Qualitative Study with Latin American Women in Barcelona and Milan
5 DECEMBER - 5.30 pm (ONLINE)
ALAN O'LEARY,
Aarhus University
After Videographic Criticism, Can Scholarship Ever Be the Same Again?