Event Information
Location
The FitzGerald Chamber
UCD Student Centre
Belfield
Ireland
Refund Policy
Refunds up to 7 days before event
Description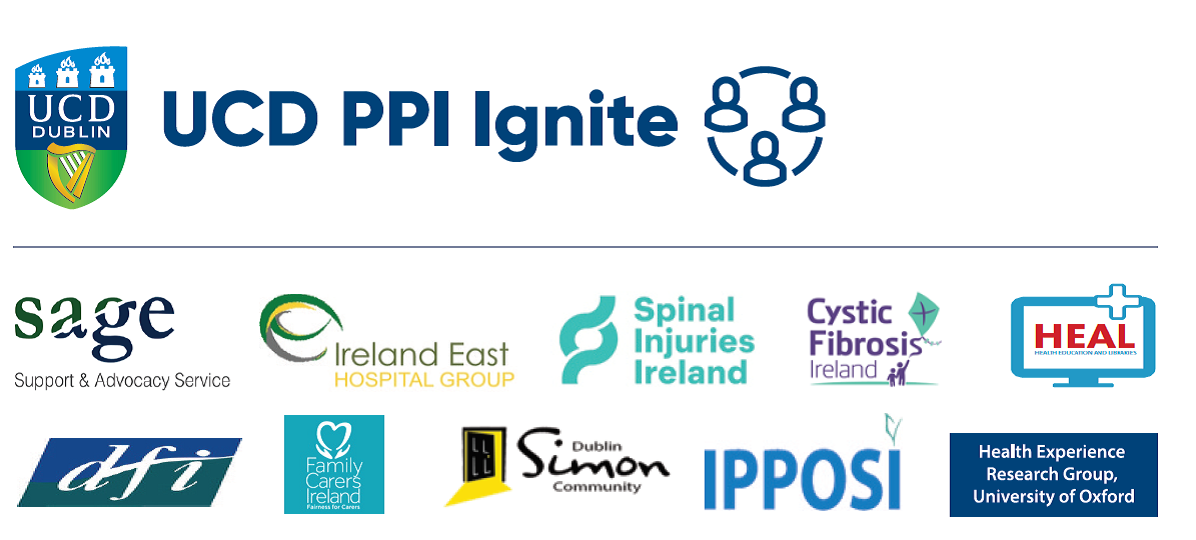 UCD PPI Ignite Winter School: What Works to Engage Seldom Heard Voices in Health and Social Care Research
Location: The FitzGerald Chamber, UCD Student Centre
Registration will close on the 9th of January 2019
9.15 -9.45am-Registration: Tea & Coffee Available

9.45-10.15 Opening: –Why Our Voices Matter - Independent Senator Colette Kelleher
Policy Brief Launch: The mechanisms and resources that enable the reciprocal involvement of seldom heard groups in health and social care research
10.15-11.15 Session 1: Participation and Practice of Human Rights in Health and Social Care
Judy Walsh, Director of the UCD Equality Studies Centre at the UCD School of Social Policy, Social Work and Social Justice and UCD PPI Ignite Academic Champion
Comfort Break-15 Minutes
11.30-12.30 Session 2: Co-Production-The Why and How
Dr Laura O'Reilly, Urrús Addiction Training Centre, Ballymun Youth Action Project and Dr Sarah Morton Director of the Community Partnership Drugs Programme, UCD School of Social Policy, Social Work and Social Justice
12.30-1.30-Lunch
1.30-2.15 Session 3: What Works for Community Partners?
Panel: Vanessa Lacey, Health and Education Manager, Transgender Equality Network Ireland; Toni Gleeson, Disability Federation of Ireland; Client Action Group, Dublin Simon Community, Angela Keaveney, Domestic Violence Coordinator at Longford Women's Link and Bernadette Gilroy, PKU Association of Ireland;
Moderator: Dr Éidín Ní Shé
Comfort Break-15 Minutes
2.30-3.30 Session 4: Embedding Academic Work with Activism
Dr Sara Ryan, Health Experiences Research Group, University of Oxford
3.30-4pm: Session 5: Participant Reflections and Close
Moderator: Prof Thilo Kroll
Contribute to the Conversation: #PPI_Ignite
FAQs
What are my transport/parking options for getting to and from the event?
Parking will be available in UCD on the day as the Winter School is occurring outside of term time. Please refer to UCD Communting for Public Transport details: http://ucdestates.ie/commuting

How can I contact the organiser with any questions? Please Contact: Dr Éidín Ní Shé eidin.nishe@ucd.ie

If you require any specific supports to support your attendance at this event please contact: eidin.nishe@ucd.ie

Biographies




Session 1:

Judy Walsh

teaches human rights and equality courses at UCD. She is the national
expert on discrimination law for the
European Equality Law network and is Vice Chair of the Participation and Practice of Rights Project (PPR). PPR supports groups affected by injustice to advocate for change using a human rights based approach that is built on their knowledge and expertise.
Session 2:
Dr Sarah Morton is Director of the Community Partnership Drugs Programme in UCD. She has extensive experience in research, policy and practice in relation to addressing complex issues including domestic violence and substance use and has a special interest in community engagement and innovation in partnership-based research methodologies.
Dr Laura O'Reilly is the Co-ordinator of Urrús Addiction Training Centre, Ballymun Youth Action Project. With extensive experience in the drug and alcohol sector, recently her work has focused on the progression pathways of substance users into education and employment, as well practitioner and organisational capacity building to respond effectively to drug issues. She has engaged in a number of partnership based research projects.
Session 3 (More to be added):
Vanessa Lacey has
worked with Transgender Equality Network Ireland (TENI) since 2010, currently she is the Health and Education Manager. In her role, she designs and delivers transgender related training for health care professionals throughout Ireland. She was directly responsible for creating the family support group TransParenCI in 2011, which currently support over 280 families. Vanessa has worked on numerous occasions with media, and is a published author, both in media and academically.
The Dublin Simon Community believe that every client brings different experiences, skills and ideas which contribute to the way they work. The Client Action Group is a client-led group. Client involvement means the people using services having influence in how services are developed and run and having a voice in decisions which have an effect on them. The group recently designed and facilitated an open session for clients in September 2018 on how to make research matter in partnership with the UCD PPI ignite program. The session was attended by 54 clients and identified a number of priorities to advance.
Angela Keaveney works as a Domestic Violence Specialist. She has worked in the area of violence against women for over 15 years. Her background training is in psychotherapy. She works in Longford Women's Link, a women's resources centre in the heart of Ireland with the purpose of "working with women to achieve their full potential in a safe and equal society".
Toni Gleeson works with the Disability Federation of Ireland and has worked in the Disability sector for 13 years. Prior to that her experience was in the area of Community Development and Adult and Community Education. In DFI she works primarily in two areas; Children's Services and the National developments therein and in developing Capacity Building and Education for people with disabilities in their own communities. She has an enduring commitment to Community Development practices and methodologies and is also a strong proponent of the UN Conventions on the Rights of the Child and on the Rights of people with Disabilities, ratified just recently by Ireland. As an advocate she understands that she represent all members of society and is aware of that responsibility and endeavours to represent all voices at the table.
Bernadette Gilroy (PKU Association of Ireland) is a PKU advocate and a researcher in the area of 'PKU, Aging and Exercise' at Dublin City University and 'PKU and Quality of Life' at the Dept. of Health and Leisure Studies, Institute of Technology, Tralee where she currently lectures full time. She has been involved in the PKU Association's #fight4visibility and #EmpoweringPKU campaigns with the main objectives of raising awareness, improving services available to patients and gaining access to medicines. She is currently the PKU Association Spokesperson, a PKUAI Representative in the Health Technology Assessment process on

KUVAN®, and an Irish delegate for the European Society of PKU and Allied Disorders.
Session 4:
Dr Sara Ryan
background is in sociology and anthropology and has a PhD in health and social care. Based at the University of Oxford her research is focused on disability, autism, and, more broadly, health experiences. In 2013 she began to combine academic work with activism after the preventable death of her son, Connor Sparrowhawk, in a specialist NHS Trust unit.
Date and Time
Location
The FitzGerald Chamber
UCD Student Centre
Belfield
Ireland
Refund Policy
Refunds up to 7 days before event