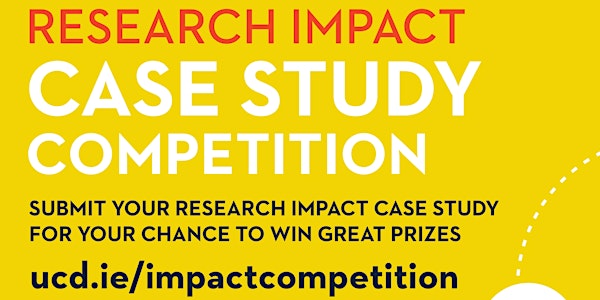 UCD Research Impact Competition Workshop [Online]
A two-hour workshop to help you understand the complex area of research impact and develop an effective impact case study.
About this event
A support workshop for the UCD Research Impact Case Study Competition. Open to all temporary and permanent academic and post-doctoral staff at UCD, regardless of discipline.
Note: This workshop will be held over Zoom, and a link will be circulated nearer the time. If you would prefer to attend an in-person workshop, please register for the event on 14 June. The content of the two workshops will be identical, so please only register for one.
Objective
The workshop will help you understand the area of research impact, and will teach you how to use the UCD Impact Planning Canvas to develop an impact case study.
Areas covered
Societal and economic research impact and its importance in the current funding landscape.
The UCD Impact Planning Canvas and how it can help you reflect on your research to create content for research impact case studies.
The Impact Case Study Template, including tips for writing an effective impact case study.
Outcomes
Increased understanding of research impact and its importance.
Improved ability to communicate the potential impact of your research.
Understanding of the resources UCD offer to support research impact .