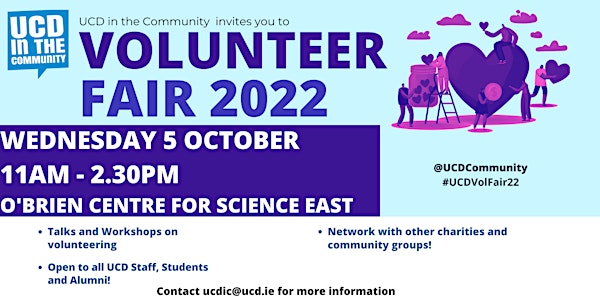 UCD Volunteer Fair 2022
Open to UCD staff, students and alumni!
When and where
Location
UCD O'Brien Centre for Science East O'Brien Centre for Science East Belfield Dublin Ireland
About this event
Join us for our Volunteer Fair on Wednesday 5th October and chat to a wide range of visiting community-based organisations! You can hear more about the great work of these organisations and you can even sign up to volunteer. There will also be an opportunity to get involved in some on-campus volunteering initiatives on the day! This event is open to UCD students, employees and alumni.
In addition to the Volunteer Fair, students can also join in on one of our workshops being delivered by UCD Careers, UCDVO, and Concern. Workshops are free to attend and further information is provided below on each workshop. Make sure to book your tickets!
Pop over for as little or as long as you like!
Workshop 1: 'Volunteering & Your Career' 12:00 - 12:45pm. Location: Hub H1.51
Calling all UCD students!! Are you a volunteer and want to know how to highlight your volunteering skills on your CV? Or have you never volunteered but want to see what benefit it could have for your future career? Then come along to our 'Volunteering & Your Career' seminar as part of the UCD in the Community Volunteer DayMichelle Coen and Aradhna Matur, UCD Careers Network, will provide a talk on how students can use volunteering to further their career, including what potential employers look for in graduates and how you can include the skills you have learned through volunteering to further your career prospects! This workshop will take place from 12:00 - 12:45 at: Hub H1.51. Sign up here: https://www.eventbrite.ie/e/volunteering-and-your-career-seminar-tickets-415379901467
Workshop 2: "UCD Volunteering Overseas" 12:00 - 13:00. Location: Science South 3.56
What's calling you in 2023? - International volunteering? Becoming a global citizen? Finding your tribe? Then come along to the UCDVO seminar as part of UCD Volunteer Day! We'll discuss our Volunteer Programme which includes global citizenship education and the opportunity to volunteer (overseas or online) with UCDVO's partners in India, Tanzania and Uganda.
This workshop is open to UCD students, staff and alumni! For further information please email info.ucdvo@ucd.ie. Sign up here: https://www.eventbrite.ie/e/ucd-volunteer-fair-volunteering-overseas-workshop-tickets-415539488797
Workshop 3: Design Thinking to Accelerate Solutions for the Sustainable Development Goals - Project Us SDG Design Thinking Workshop -
This workshop INCLUDES FREE LUNCH FOR ANYONE WHO REGISTERS & ATTENDS
Project Us, is an all-island, Irish Aid funded initiative to engage the Irish public with the United Nations Sustainable Development Goals (SDGs). Project Us is now offering SDG Design Thinking workshops to groups interested in cultivating ideas, identifying solutions and building partnerships with the power to solve a wide range of complex global and local sustainable development challenges like gender equality, zero hunger and climate change.
During this 1 hour and 30 minutes workshop, using a tailored toolkit, we will create tangible solutions in support of the long term goals with a focus on your community's needs. These workshops are fast, energetic and collaborative using many many many post its!
To tackle the complexity of challenges today, it is imperative that the solutions developed are effective and they are most effective when designed in a participatory way - a user-centric way. Engaging university students is of primary importance in forging the leadership, empathy, ideas, energy and hope to demand change and design effective solutions to these challenges. Using the SDGs as the theme running throughout the programme captures students' attention; breaking down the goals into manageable, challenge-based competitions gives students a chance to explore how they can make a difference for the future.
All levels of knowledge welome! Sign up here: https://www.eventbrite.ie/e/ucd-volunteer-fair-project-us-sdg-design-thinking-lunch-learn-workshop-tickets-415545065477