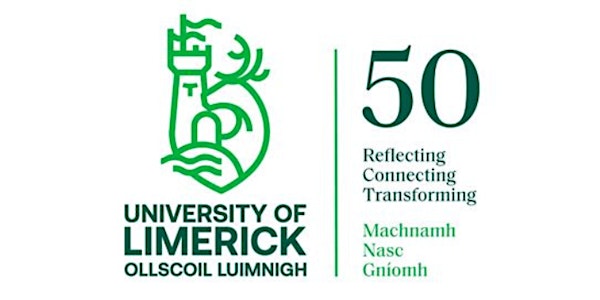 UL PhD Alumni Celebration & Launch of PhD Alumni Network
UL PhD Alumni Network Launch. An event to celebrate the achievements of our doctoral alumni and to launch the UL PhD Alumni Network.
When and where
Location
University of Limerick Limerick Limerick V94 T9PX Limerick Ireland
About this event

As part of the UL 50 celebrations, Graduate and Professional Studies (GPS) will host an event this November to recognise the achievements of our PhD alumni and to launch the UL PhD Alumni Network.
The event will acknowledge the accomplishment of successfully completing a PhD and the benefits that a doctorate has brought to our alumni in the course of their respective careers.
The event will also celebrate research currently being undertaken in UL by our faculty and postgraduate researchers.
The celebration of our PhD alumni on Saturday, November 19th 2022 will consist of the following:
• UL Doctoral Alumni Reunion Lunch beginning at 1pm in The Pavilion
• A tour of the campus (transport provided), including our Research Centres, where PhD alumni will witness some of the ground-breaking research taking place in their former faculties
• Talks by an alumnus from each of the four faculties in relation to the benefits of a UL PhD to their careers
• A display of some of the products, services and artefacts developed by our doctoral alumni since leaving UL
• A talk by a member of UL's Honorary Alumni about the significance of a UL honorary doctorate
• The launch of the UL PhD Alumni Network Launch
Attendees may also attend the UL Alumni Awards Dinner that evening in the Castletroy Park Hotel, Limerick.
We are very grateful to the University of Limerick Foundation (ULF) for their support in running this event.