About this Event
Come and experience an event of a lifetime at the Ulster Bank Hackathon! A 54-hour FinTech Hackathon of product development, where diverse ideas collide and the best ones could emerge as a new product or service. It's a madhouse of creative fun, with developers, designers and marketeers collaborating in teams for accelerated productivity.
Come along with or without an idea, join a team and watch it come to life in less than 3 days. Shine in front of our judging panel of business leaders in Banking & Technology, showcase your working prototype "on stage" and be in with a chance to win prizes!
From fostering innovation as a Dogpatch partner since 2015, Ulster Bank is committed to anticipating the needs of its customers, creating new banking solutions to meet them, and bringing innovative ideas to life both internally and across the banking sector as a whole. Be part of the solution at this year's Hackathon!
Brief: Deliver innovative solutions around FinTech to enable "Everyday Banking and Collaboration".
Aim: Improve levels of service by enriching the banks capability, through targeted niche solutions & broader personal financial management capability.
Categories: Several streams running parallel with prizes awarded on the night.
Prizes: Winning team will receive the top prize valued at €1,000. Second place will receive a prize worth €750.
Why sign up?
Bring your idea to life
Challenge yourself with creative coding
Receive mentoring from successful Irish entrepreneurs
Receive mentoring from experts within Ulster Bank
Get hands-on advice from UX designers and developers
Pitch Coaching from industry experts
Develop "next-gen" ideas to disrupt the banking industry
Who we're looking for
Entrepreneurs, developers, designers, coders, data scientists, marketeers, dreamers...if you're up for the challenge, we want you!
Teams of 4-5 attendees (if you don't have a team you can join one)
Pre-formed teams are welcome
Attendees are responsible for coming to the event with FinTech related ideas or finding a team to work with during the Hackathon.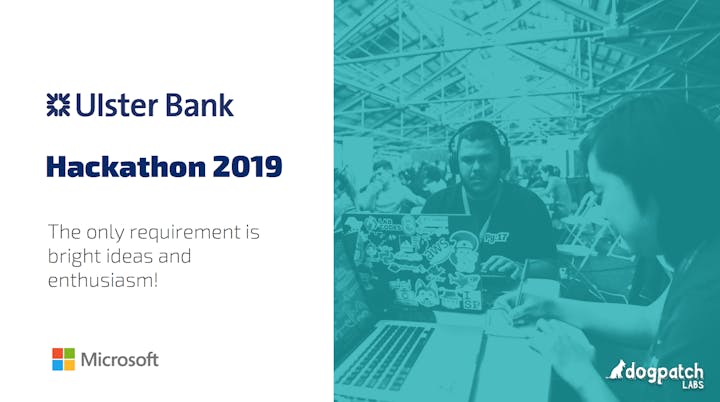 Collaborating with Microsoft
The full Microsoft cloud platform will be made available for this year's Hackathon. Microsoft Technical experts will be close at hand throughout the weekend, allowing teams to rapidly configure business-ready prototypes and maximising their impact for colleagues and customers alike.
Guides & Documentation
SCHEDULE
Friday:
18:00 Registration & Networking
18:30 Opening Talk
18:45 Idea Generation & Team Forming
20:30 Drinks Reception
Saturday:
09:00 Breakfast & Networking
09:40 Coding (ALL DAY)
10:30 Microsoft Workshop
11:00 Pitch Coaching
12:00 Lunch
14:00 Mentoring Sessions
19:00 Dinner
20.30 Bar Opens
Sunday:
09:00 Breakfast & Networking
10:00 Coding (until 4pm)
10:30 Pitch Coaching (optional)
13:00 Lunch
14:30 Pitch Practice
16:00 1st Round Pitches
17:00 2nd Round Pitches
19:00 Award Ceremony
Privacy Policy & Photos
Please note the information you provide will be processed by both Dogpatch Labs and Ulster Bank Ireland DAC in line with their respective privacy policies: dogpatchlabs.com/privacy and digital.ulsterbank.ie/globals/privacy.html
Note that photos will be taken during the event. Please notify us in writing via email to aisling.conlon@dogpatchlabs.com and at the event if you would not like to have your photo taken. These photos may be used in marketing materials of Dogpatch Labs and/or Ulster Bank Ireland DAC.