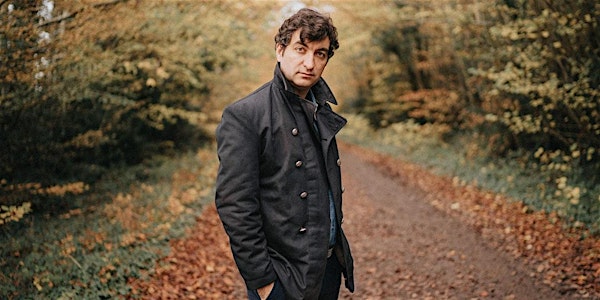 Ultan Conlon
We are thrilled to welcome back Ultan Conlon for the Mullingar launch of his new record "There's a Waltz"
When and where
Location
The Stables Venue (Smiddy's) 11 Dominick Street WH Mullingar Ireland
About this event
OLDTOWN SAYS...
"Ultan played the very first Oldtown Music Company show and we can't wait to welcome back him back to Mullingar to celebrate the release of his fourth studio album. This will be a trio show and you can expect shades of Dylan and Orbison all delivered with grace, humility and good humour"
ABOUT ULTAN CONLON    
'Ultan is one of the great new Irish singer songwriters' Marty Whelan (Lyric FM)
'Last Days Of The Night Owl' RTE Radio 1, Album of the Week.
'The Measure', 'Weak Heart Like Mine' (Ft. Mary Coughlan) and 'In The Blink Of An Eye' all No. 1 Hit Singles on RTE 1 Airplay Charts
Galway singer/songwriter Ultan Conlon has become recognized as a devoted songwriter in his native Ireland. His talent for capturing the human spirit through his lyrics has been honed over two decades of writing and performing original material. As his confidence to craft great songs grows, so too do the captive audiences he draws in at his live shows. The quality of his songwriting is matched only by his voice, both powerful yet fragile, that some critics have likened to the great Roy Orbison.   Ultan's back catalogue – two EPs and three studio albums to date - have received extensive international radio airplay, inclusion on the award-winning movie, Songs For Amy, as well as receiving numerous positive reviews from critics-turned-fans. He has also performed on Irish national television and radio several times.  
It is perhaps his most recent offering, There's a Waltz, however, that deserves most attention. Produced by acclaimed Bluegrass and Grammy winner Sean Watkins (Nicklecreek), Ultan has just returned from LA where he recorded with some of the top session players in Los Angeles. Recorded in just over 2 and a half days to capture that timeless sound and classic album feel. 'There's a Waltz' came to fruition after a series of trips to LA where Ultan played to a Sold Out Viper Rooms and performed at LA's most prestigious venue, Largo. On one occasion sharing a stage with Jackson Browne and Shelby Lynn to perform a rendition of Neil Young's 'Long May You Run'.  
Last Days Of The Night Owl, Ultan's third studio offering in 2018 took Ultan's songs to a much wider audience and was played extensively on national radio broadcasters including RTE, Lyric FM and Newstalk as well as enjoying extensive airplay in the UK on BBC Radio. The single 'The Measure' reached No.1 in the airplay charts, and remained there for an incredible 5 weeks. The follow up single featuring Mary Coughlan also reached the top of the RTE Radio 1 Airplay Charts and the album itself was made 'Album of the Week' on both RTE Radio 1 and also on Marty Whelan's morning show on Lyric FM.  
Having shared the stage with the likes of John Fogerty, Mavis Staples, Bryan Ferry, John Grant, Eddi Reader, Patty Griffin and Richard Hawley, Ultan has also performed duets with Glen Hansard and John Martyn. The latter Scottish folk legend later went onto record one of Ultan's early works, Really Gone, in 2005.    
"There's an appealing rockabilly sensibility at work on Ultan Conlon's single 'The Measure' that has something of Paul Simon-meets-Elvis about it". Jackie Hayden - Hot Press
"Ultan Conlon's album is beautifully crafted and sounds like 'Nashville Skyline' Era Bob Dylan". Get Ready To Rock, UK
"The tortured soul has seldom sounded so silvery" R2 Magazine 4/5**** (UK)
"An impressively simple but classy album" Music-News.com, 4/5****
"Shades of Roy Orbison" Ronan Collins RTE Radio 1
"Deep and meaningful, bristling with emotion and passion, not a duff track" Whisperinandhollerin, IRL. 9/10**********
"A lush sounding, stylishly orchestrated collection of songs with a distinctive voice"
- Fatea, UK
"Beautifully crafted, sounds like 'Nashville Skyline' Era Bob Dylan. An emotionally strewn journey worth sharing" Get Ready To Rock, UK
"Lyrical gems to be mined among his plainspoken verse" No Depression (USA)