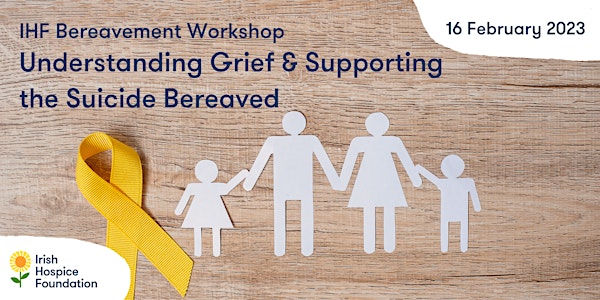 Understanding Grief and Supporting the Suicide Bereaved
This workshop aims to provide an understanding of the grieving process and explore common grief reactions following a death by suicide.
By Irish Hospice Foundation
Date and time
Thu, 16 Feb 2023 01:15 - 08:15 PST
Refund Policy
Refunds up to 7 days before event
About this event
Caring for and supporting someone who has lost a loved one to suicide can be challenging. Many feel unable to provide adequate support and struggle to understand the depth of grief. Some have difficulty knowing, what to say or do and worry about saying the wrong thing. This workshop aims to provide an understanding of the grieving process and explore common grief reactions following a death by suicide. It will explore ways to provide adequate support and present practical strategies in responding to the bereaved.
Learning Outcomes
On completion of the workshop participants will:
understand the grieving process following a death by suicide
understand how a death by suicide can impact the lives of the bereaved
explore ways to support the suicide bereaved
be familiar with resources and supports available to the bereaved
be aware of the impact of personal loss and the importance of self-care
Presenter Profile
Bernie Carroll has extensive experience of working in the field of mental health. Initially working as a nurse in the psychiatric, general and Intellectual Disability services. Bernie worked as the HSE Regional and National Resource Officer for Suicide Prevention for over 17 years. She has a BSc in Nursing Studies from the University of Limerick and a Masters in Suicide Studies from St. Patrick's College, Drumcondra. She has a particular interest in education and training and has delivered suicide prevention, intervention and postvention training programmes, in a variety of settings. Bernie currently works as an external trainer with the statutory and voluntary agencies.
About the organiser
2023 Workshops on Loss and Bereavement

Aim

This is a series of introductory workshops on a range of topics covering loss and bereavement.

Target Audience
The workshops are targeted at professionals and volunteers who may wish to learn more about loss and bereavement and for those working with people who have experienced a major loss.

These workshops are framed relative to the HSE palliative care competence framework at level two – for people whose work increasingly sees them engaging with people facing loss, bereavement and death. Specifically, the competence dimension for grief and loss; and the competence dimension for communication are of relevance to workshop content and learning outcomes.

The framework is available here https://www.lenus.ie/handle/10147/323543

Accreditation

Professional accreditation is under application from the Nursing and Midwifery Board of Ireland. If you have other accreditation needs please contact us. A certificate of participation/attendance at the workshops is available on request.

Teaching Method

The workshops will be held online via Zoom and will include talks and interactive sessions.

Time and Duration

Full-day Workshops will run from 9.15am - 4.15pm.
Half-day Workshop will run from 9.15am - 1pm.
There will be short breaks through the day and a lunch break of 45 minutes included for full-day workshops. Registration will commence at 9.00am

BOOKING DETAILS
Participants may attend one or more workshops. Please note as places are limited early booking is advised.
Fees
€100 per full-day workshop
€60 per half-day workshop
Payment
Full payment is required at the time of online booking.

Cancellations
Cancellations up to 1 week prior to each workshop will be given a full refund minus an administration fee of €10. Thereafter no refunds will be made.