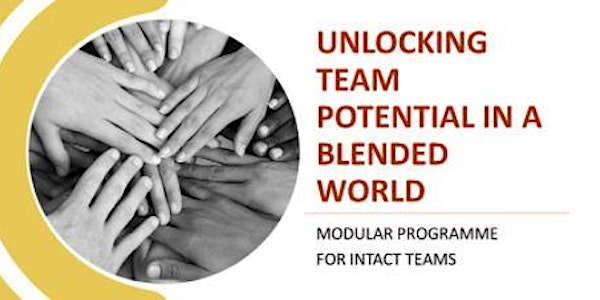 Unlocking Team Potential in a Blended World- (4 Modules)
Unlocking Team Potential in a Blended World - October 4th, 11th, 18th and November 8th
About this event
For TCD Intact Teams
To secure a place Managers should apply on behalf of their team. Please contact lpower@tcd.ie with initial queries for guidance on how to get the best out of this programme and for additional information on the time commitment.
Key aspects of programme:
Delivered over 4 x 1hr 45min sessions (1 per week)
Designed as a toolkit for building high performing teams in a blended environment
To avail of this iteration of the programme your team must be available on the following dates October 4th, 11th, 18th and November 8th
Notes:
As part of the second module participants will be invited to complete individual Belbin questionnaires, and receive an individualized report (to their email) to support their personal learning. A pre- paid fee of €35 to cover the cost for your Belbin report will be charged back to the unit home cost center.
It is also recommended that team members completed the Psychological Safety for Teams course in advance of this event.
Programme Overview:
The program content is layered week on week to build learning to facilitate the following learning outcomes.
Module 1 – Defining and Understanding High Performance
Understand the barriers and building blocks for achieving high performance
Measure team performance against criteria
Develop team Charters
Identify team behaviours that help and hinder
Module 2 – Team Role Theory
Identify and understand the nine Belbin Roles
Understand the inter-dynamics between the different roles
Identify their own strengths and development challenges around the roles
Understand the allowable and non-allowable behaviours for each role
Module 3 – Team Dynamics and Communications
Understand and apply Tuckman model of team development
Diagnose own teams' position and development needs to progress
Examine the communication channels in use within the team
Provide effective team communications
Module 4 – The Behaviours of a Cohesive Team
Understand the five behaviours of a cohesive team
Diagnose own teams' strengths and weaknesses in relation to these behaviours
Explore potential solutions to overcome team dysfunctions
Design a cohesive team development roadmap for own team
Delivered by: Derek Fox, DFLeap Consulting
Notes
Approval for Attendance: Please note that your manager needs to be aware of any planned absence from your area, please discuss with your manager/head of school in advance of booking.
Data Protection legislation, specifically the EU General Data Protection Regulation and Data Protection Acts 1988-2018, safeguards the privacy rights of individuals in relation to the processing of personal data. The data collected in this instance will be processed for the stated purposes only and deleted when no longer required. For further information on data protection compliance at Trinity College please see https://www.tcd.ie/info_compliance/data-protection/.