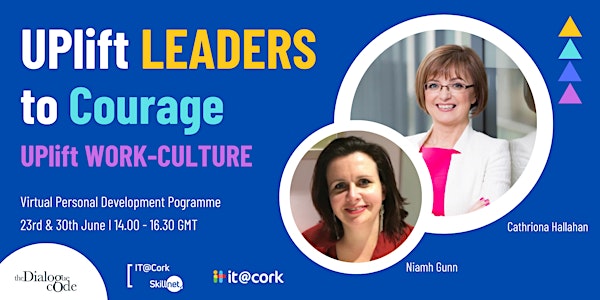 UPlift Leaders to Courage I Virtual 23rd & 30th June I 14.00 - 16.30 €195
An Online Personal Development Dialogue Programme to UPlift Leaders And UPlift Work-Culture in the New Work Paradigm
About this event
This Online Personal Development Workshop is aimed at UPlifting Leaders to Courage so that they can UPlift Work Culture. Attendees will feel supported to sustain change in a peer to peer community hosted on Workvivo.
Trinity College Dublin, as an independent partner of The Dialogue Code will be carrying out research and impact of our programme, so participants and workplaces can evaluate impact and next steps of engagement.
Details:
WHO: Leaders or Future Leaders Tasked with Creating the Future Workplace. A Programme for Leaders across industry that wish to be UPlifted and experience a programme that may have relevance for them, their team and their community.
WHAT: 2 Virtual Zoom Sessions of Personal Development Programme to uplift leaders to their courage. Our process is a highly interactive dialogue process where we engage in small pods, silent writing, and group census. We will, in a safe way, share the real issues and get clarity together on how to move forward. Well-being and reflective exercises are woven to enhance the experience and support the clarity of the participants.
- 2 virtual sessions
- 6 month access to platform
- Access to well-being resources
- Access of reports from sessions
WHEN: VIRTUAL 23rd, 30th June TIME: 14.00 - 16.30 GMT
WHERE: Online (Zoom)
FEE: €195 The fee for this ticket has been waived and your ticket has been sponsored.
WHY YOU SHOULD BE INVOLVED?
Goals:
Unlock your full potential in life and work
Connect to inner awareness, personal fulfillment and enhance well-being.
Connect with peers to sustain change in a peer to peer online community.
Benefits For Organisations:
With overwhelm and burnout on the increase, among a climate of resignation, it is critical we uplift leader to thrive. Our Dialogues help organisations:
Helping Leaders be the best in work is a business imperative, it benefits our businesses, our customers, our society and our bottom line.
Be at the forefront of creating optimum conditions for your leaders
Raise their profile as an employer that listens
Attract, retain and develop top talent
Experience and evaluate the Dialogue Code public programme for internal use application.
What's Different!
These are not "talking heads" events but an engaged and interactive approach where all voices participate and real change happens from the inside out!
This method will be like nothing you've experienced before. The sessions are holistically designed to engage the head, the heart and inner knowing.
This workshop is part of a wider programme offering to uplift leaders to UPlift Work Culture.