About this Event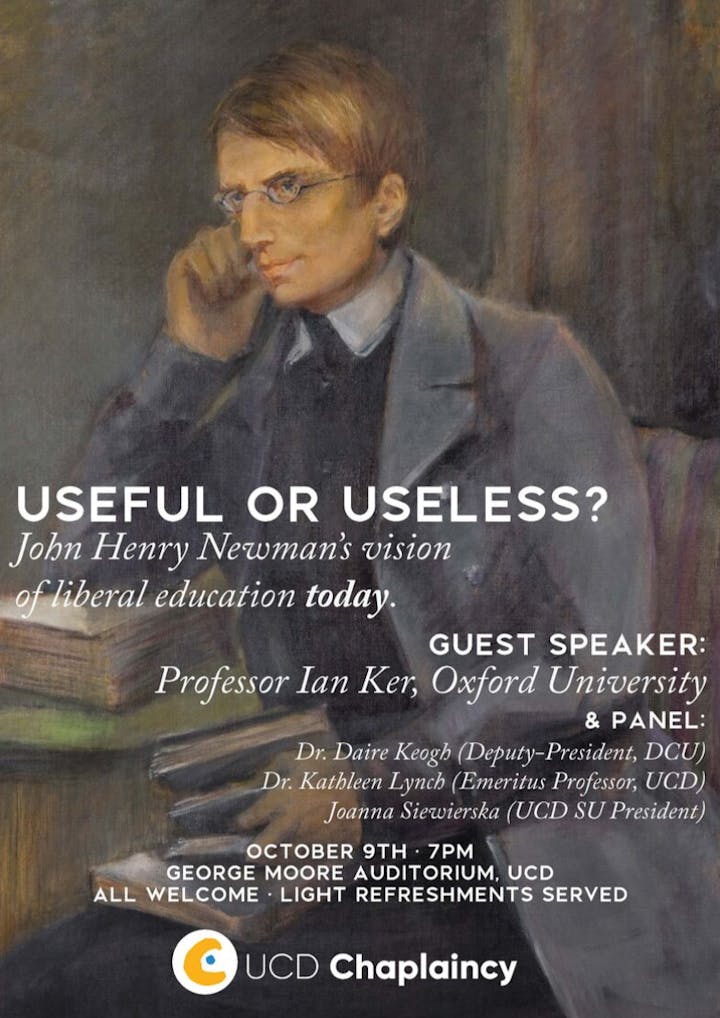 In anticipation of John Henry Newman's (Founder of UCD) canonisation in Rome on 13 Oct 2019, UCD Chaplaincy is organising a public lecture by the leading internationally recognised Newman Scholar, Professor Ian Ker (Oxford University).
This event take place in the George Moore Auditorium (O'Brien Science wing) at 7pm on Wednesday 9 October 2019.
We will also have a panel of experts in Prof Daire Keogh, Deputy President DCU; Prof Kathleen Lynch, Prof Emerita UCD; and Joanna Siewierska, UCD SU President, to respond to Prof Ian's paper and to stimulate audience participation.
Panel discussion and audience participation will be compèred by Mick Peelo of RTE. While Teresa Iglesias, professor Emerita UCD and Founding Director of the UCD International Centre for Newman Studies, will welcome and introduce Prof Ker.
The title of Professor Ker's paper will be of general interest to educationalists, students and Newman scholars and devotees:
'Useful or Useless? John Henry Newman's Vision of Liberal Education TODAY'.
DATE : WEDNESDAY OCTOBER 9TH
TIME : APPROX 7PM
VENUE : GEORGE MOORE AUDITORIUM
(O'Brien Centre for Science, UCD )
All are welcome. Light refreshments will be served.