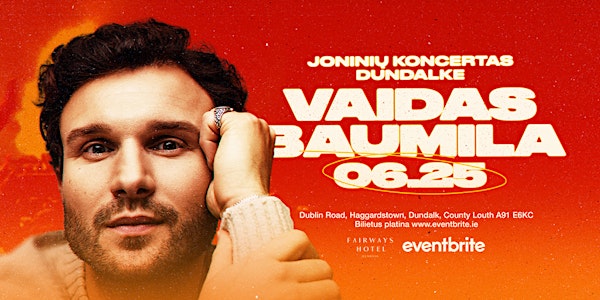 Vaidas Baumila - JONINIŲ koncertas Dundalke
VAIDAS BAUMILA
When and where
Location
Fairways Hotel Dundalk Dublin Road A91 E6KC Dundalk Ireland
Refund Policy
Refunds up to 30 days before event
About this event
SUTIKIME JONINES VISI KARTU !
Joninių vakaro svečias! Pirmą kartą Airijoje!
Vaidas Baumila kviečia Jus visus kartu sutikti trumpiausią metų naktį!
Tai stebuklinga naktis – sutikime ją visi kartu. Kvieskite draugus, dalinkitės šia žinia, švęskime visi kartu linksmai, garsiai ir su šokiais! Jei švęsti, - tai švęsti! Nestabdom ir iki greito pasimatymo!
Vaidas Baumila is a Lithuanian singer and actor. He represented Lithuania in the Eurovision Song Contest 2015 along with Monika Linkytė with the song "This Time". This midsummer event designed to introduce Lithuanian culture and heritage to the Irish public and if it happens that you are not allowed to jump over fires, make wreaths, or search for fern flowers, don't worry: simply is being part of this ancient Lithuanian celebration will fill you with long-lasting positive emotions and good energy. It is crucial to stay up all night and see the sun rise.
Durys atidaromos - 19VAL.
Koncerto pradžia - 21VAL.
Išankstiniai bilietai - 30 € Artėjant renginio dienai bilietai brangs!
Vaikams iki 10m bilietai nemokami.
Dėkojame mūsų draugams ir rėmėjams:
Polostore Dundalk - Perfect car - Aurora project - Bounce and play castles - Baltijos krantas - AutoDeira - Ashbourne klinika - Sans - Glitter girls - Studio Timi
DAUGIAU INFORMACIJOS TELEFONU:
+353851014222