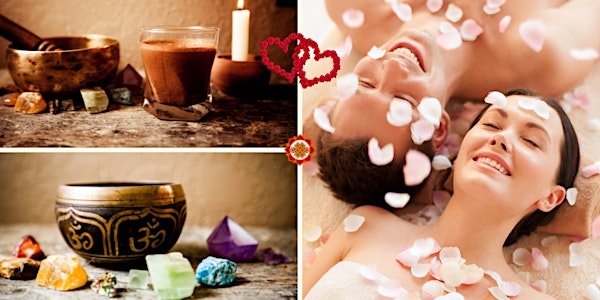 Valentine's Day Healing: Reiki + Cacao Ceremony + Sound Bath
Valentine's day Healing session for couples - Reiki followed by reflection and cacao and sound healing mediation
Date and time
Wednesday, February 15 · 12 - 4pm GMT
Location
Endless Fulfillment Coach and Reiki 14 Wellmount Green D11 C5R7 Dublin Ireland
About this event
Please buy ticket for each person attending 99€/person
Valentine's day Healing session for couples - Reiki followed by reflection and cacao and sound healing mediation.
This Valentine's Day give your relationship the gift of healing.
Choose to heal your relationship so that you can stay connected and feel the romance throughout the year.
Full hour of reiki session followed by a reflection with cacao and snacks and finishing with a full hour of sound bath session. Four hours of complete relaxation with your partner. Andrea and Attila will take care of you so you will go home fully recharged and connected. Love is the most beautiful feeling in the world. Falling in love with the same person over & over again.
Step away from the hustle and bustle of your daily lives, to sink into an empowering and transformative healing. This special healing sessions created for those who want to share a healing , relaxing session with their partner or friends. Give yourself and someone special the time to recharge in deep peace and relaxation. Enjoy a reiki session with your friend or your partner. Each person will have one reiki healer full attention.
Time to relax, switch off and enjoy the sound as it changes around you. With Tibetan singing bowls, bells and other instruments, Attila will bring you to a healing journey.
He has over 23 years experience practicing Tibetan Buddhism, meditation and using mantras. His unique voice will deepen your relaxation.
You just lie there and allow the vibration of the sounds clear all your worries and stress. During your session there will be chanting of Tibetan Mantras to increase your energy level and to enjoy the magic of the sounds.
Sounds, vibrations, reaching every cell in the body it will bring you into a relaxed state that harmonizes the energy level in your body, strengthens your immune system, relaxes your body, soul and spirit. You can have spiritual experiences and get to know yourself better.
These session are only for 2 people which mean you can enjoy the time with someone special .
Please contact us if you would like your session at a different time/day. We will do our best to find the right time for you.
How can I contact the organizer?
https://endlessfulfillmentcoachandreiki.com/contact-me/
or Ph-083 00 89 811
andrea@endless-fulfillment.com