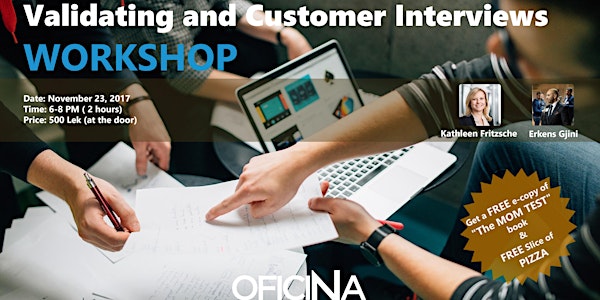 VALIDATING AND CUSTOMER INTERVIEWS
Date and time
Thu, 23 Nov 2017 18:00 - 20:30 CET
Location
Oficina Rruga "Asim Vokshi" pranë "Harry T. Fultz" Tirane Albania
Description
This is a must attend workshop for everyone who wants to learn the basic tools in validating a business idea. Learn the fundamentals that every young entrepreneur should know when thinking about launching a startup.
Hosted by:Kathleen Fritzsche and Erkens Gjini
Key Notes:
Intro to Testing

What is an MVP

Hypothesis Testing

Validating Learning

Empathy map

Right approach to customer interviews
Limited Seating: 25
Ticket Price : 500 ALL ( at the door)
Come and receive a free copy of the book "The MOM Test"
About the Host:
Kathleen Fritzsche, Startup Enthusiast and Specialist at Zoi

Kathleen Fritzsche is an experienced entrepreneur from Germany who has been involved in the startup community since 2010. That's when she attended her first Startup Weekend. Since then, she has co-organized and facilitated many events in several countries, including Bosnia and Bulgaria. Kathleen co-founded StartUp Stuttgart in 2011, the main startup community in Southwest Germany, and Accelerate Stuttgart in 2012, with the vision to support early-stage startups in the region. Accelerate Stuttgart created and ran the first privately funded accelerator program in Stuttgart. Since September 2017, Kathleen is working as Specialist for Zoi in Berlin, a tech consulting firm with focus on public cloud infrastructure, AI and IoT. Kathleen is a travel and startup enthusiast, sometimes also writing for her own blog.
About the organiser
Ofiçina is a strategic initiative focused in supporting Albania's transition to a knowledge-based economy. Its mission is to invest in, incubate, and help develop a new-technology industry in Albania.
Goals
Promotes entrepreneurship
Helps early stage high tech start-ups thrive
Brings commercially viable technologies and business to local and global market.
Supports employment of youngsters in a growing ICT industry.
Ofiçina runs an Annual Accelerator Programme for high tech startups and organises an array of programs and events for new entrepreneurs, professional and to develop their business skills and utilization of e-skills and networking.