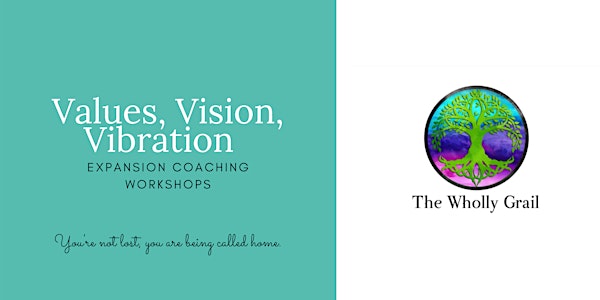 Values, Vision and Vibration Workshop
Realign, redefine and reclaim your values, vision & highest vibration for the year ahead in the first of our Expansion workshops for 2021.
Refund Policy
Contact the organiser to request a refund.
About this event
Join us Wednesday January 27th for our first Expansion workshop of the year. This is not a goal setting workshop or a wish list for 2021. This is part of a series of workshops that will run throughout 2021, each reconnecting you with your whole self. Each workshop will empower and enable you to reclaim or realign with the aspects of yourself you may have lost, forgotten, ignored or hidden for whatever reasons up to now. These workshops are an invitation to shift from contraction to expansion, confinement to liberation and powerlessness to empowerment.
Many things are shifting, changing, ending and beginning across the whole world at this moment and this is being mirrored in our own lives in different ways. As we move through these big transitions, we are experiencing big fears, wounds, memories, trauma, dreams, visions, stress, disconnection or pain (and everything in between).
The seriousness and heaviness of it all can really consume us and lead us away from what brings meaning and fulfilment to our lives (our values) and the vision we have for our life, our children, family and friends and those who will come after us. It also impacts greatly on our vibration, energy (physical and subtle body) and true essence that we are here to share in this lifetime. Although it feels like a LOT, I know it does for me at times!! I believe we are all here at this point in time for a very important reason and our very essence and vibration is so important and needed at this time. Remembering and realigning with your values and vision and highest vibration will feel really empowering and liberating at this time!!
To be truly sovereign, empowered and free we must choose what we are bringing with us and what we are leaving behind, what we will tolerate and what we will not and how we will honour and love ourselves and each other.
In this workshop you will;
 Gain clarity on your values and what really adds meaning, fulfilment and vitality to your life.
 Remember and redefine the vision you have as you move forward (including but not limited to this year).
 Explore the importance of looking after your energy and vibration and how to do it.
 Learn 3 tools to raise your vibration.
 Receive a workbook and recording of the live workshop.
 Bonus – How to create your vibration board for 2020.
 Bonus – Guided Visualisation 'Realigning with your Highest Vibration'.