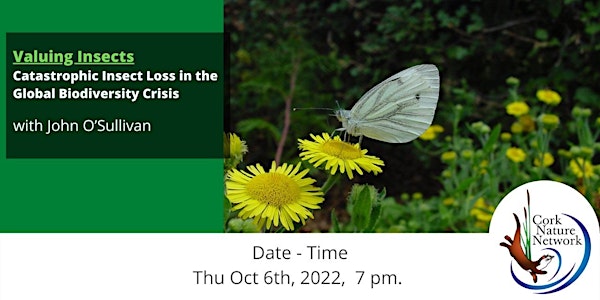 Valuing Insects: Catastrophic Insect Loss in the Global Biodiversity Crisis
To launch our new project Valuing Insects this talk examines the decline of insect populations.
About this event
Cork Nature Network is delighted to launch a new project "Valuing Insects". The project starts with Cork Nature Network holding an online talk on the 6th of October 2022 at 7 pm on insect loss and the biodiversity crisis.
With the convening of the Citizens' Assembly for Biodiversity Loss, this presentation is part of an urgent and timely national conversation.
This event will take place on Zoom.
This talk will explore how habitat destruction and fragmentation from human activities have led to a global biodiversity crisis that is now called the sixth mass extinction. In the last 100 years, thousands of species of insects have become extinct globally, extinctions that would have taken up to 10,000 years in the normal course of evolution. In Ireland, while 20% of species are threatened with extinction, local populations are disappearing nationwide. John O'Sullivan will examine this loss of biodiversity in our insect fauna and show how human activities have lead to this precipitous decline.
About our speaker:
John O'Sullivan is a Guest Lecturer with UCC and has a background in Plant Science. His research interests include conservation, regeneration and urban ecology, with particular emphasis on entomology. He reported the first instance of the alien Harlequin Ladybird breeding in Ireland, and has also recorded several insect species new to both Cork and Ireland.
Join us to learn more about the critical role insects have in the biosphere.
We look forward to seeing you!
#givenatureachance
If you wish to find out more about Cork Nature Network, please go to our website or our Facebook, Twitter or Instagram pages.
To support Cork Nature Network:
Become a member: Individual membership is only €10. Concessions €5. Family €20.
Privacy Statement
This statement relates specifically to your use of this platform. Eventbrite. Data submitted to this platform is processed by Eventbrite (the "Processor"), an Irish company. Information you submit is managed in a GDPR compliant environment and is not transferred outside of the E.E.A. (European Economic Area). You can read more in the Eventbrite Privacy Policy.
Any information which you volunteer via this online platform will be treated in accordance with the General Data Protection Regulations (GDPR) and Data Protection Acts, 1988-2018.Data transferred from the Processor to any Sub-Processors will be treated in accordance with the GDPR and Data Protection Acts, 1988-2018. The sub processors (collectively the "Sub-Processors") engaged in the use of this solution is Cork Nature Network. Additional Information: The privacy statement for Eventbrite can be accessed here: Eventbrite Privacy Policy | Eventbrite Help Centre Cork Nature Network - https://corknaturenetwork.ie/privacy-policy/