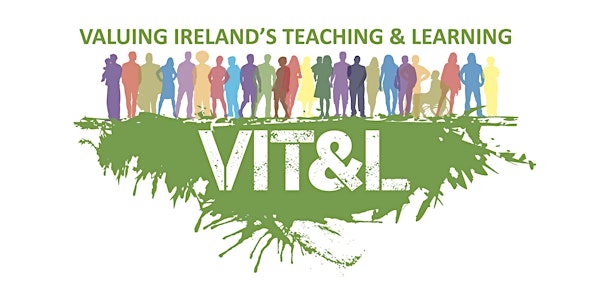 Valuing Ireland's Teaching and Learning (VIT&L) Week Opening Event
Marking the start of a focus on valuing teaching and learning that will extend to Tuesday 30 November 2021
About this event
Valuing Ireland's Teaching and Learning (VIT&L) Week will run from 8 to 12 November 2021. Regional events across the sector will continue until 30 November. During this period the higher education community will come together through local and national events to consider how we value teaching and learning and what the future of education will look like for the students of tomorrow.
VIT&L Week will be launched at 12:00 on Monday 08 November. Our keynote speaker for the launch is Prof. Frank Coton, Senior Vice Principal and Deputy Vice Chancellor (Academic) at University of Glasgow and international advisor to the Board of the National Forum.
Monday's launch will be followed by the first of our daily scholarship hours when our inaugural Teaching and Learning Research Fellows will share their initial research findings and what they mean for higher education. Each day the scholarship hour will also include our first ever Gasta Marathon featuring 26 lightening talks over the five days, facilitated by the Gasta Master, Dr Tom Farrelly.
Over 70 poster submissions on Teaching and Learning Scholarship, a series of podcasts and videos will be showcased during the week.
A centrepiece of VIT&L Week will be the launch on 10 November of findings from a national partnership project, the Next Steps for Teaching and Learning: Moving Forward Together project, announced recently by Minister for Further and Higher Education, Research, Innovation and Science, Simon Harris, T.D. As the higher education sector plans for a potential emergence from the pandemic and begins to look to the future, this project involves leading sectoral partners working together to better understand the post-2020 teaching and learning landscape and to build an informed vision for the future of teaching and learning in Ireland.
Valuing Ireland's Teaching & Learning (VIT&L) Week is for everyone. It will provide opportunities to celebrate and value what matters and to take pause and think about the future, together.
You can get involved in VIT&L Week by joining us at any stage during the week and also by tuning in and sharing via the #NFVITAL hashtag.