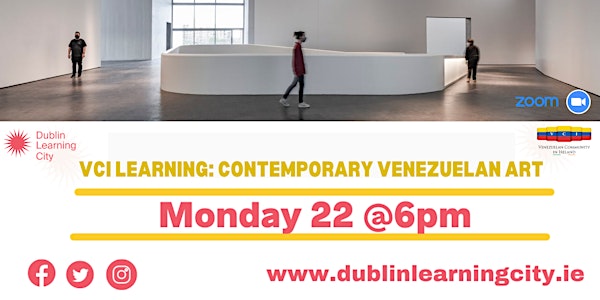 VCI Learning: Contemporary Venezuelan Art.
Join us on Dublin Learning Festival for an online Contemporary Venezuelan Art Talk presented Venezuelan Community in Ireland.
About this event
Venezuelan Community in Ireland invites you for an online talk with Marianna Salvioli where we will be looking at some of the fascinating artworks of Venezuelan Contemporary Artists arround the world. No prior knowledge is needed, just a genuine interest to discover about those artists, their style, language artwork and how they express commun themes connected with the nature, tecnology and their inmigrant condition without forgetting their origins.
This a free event from the iniciative Dublin Learning City Festival 2021.
Organised by: Venezuelan Community in Ireland.
Date: 22/03/2021.
Time: 6.00pm.
Place: Zoom.
All audiences.