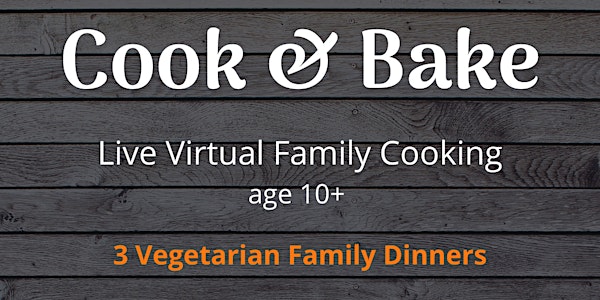 Vegetarian Family Dinners
Over 3 Mondays we'll make 3 delicious vegetarian family meals. It's time for your child 10+ years to be Head Chef!
Refund Policy
Contact the organiser to request a refund.
About this event
▶️ The idea is that your child becomes the Head Chef while the parents/minders are the commis chefs! However, if your child isn't interested or you don't have one and would like to join, then please do, the more the merrier. The age group is 10+ years! 😃😃😃
▶️ The theme is Vegetarian Family Dinners. You don't have to be a vegetarian to join just interested in eating more vegetarian food - it is kinder to our planet and gentler on our bodies. If you really must have meat, I'll have suggestions on where/how to add meat!
▶️ Over 3 Mondays we'll make 3 truly delicious vegetarian family meals - Spanish Chickpea & Potato Bake - Vietnamese Sweet Almond Curry - Veg Bake in a Roasted Red Pepper & Almond Curry Sauce 👏💪👏▶️ Encourage your family to eat more vegetarian foods => it's kinder to the planet and healthier for your body. 🌲🥔🍆🍅🥒
▶️ Parents report kids are more likely to eat what they cook! Win-win!
▶️ Great way to bond with your child while making a family meal. 💞
▶️ Learn new recipes, skills and ideas from the comfort of your home. 👩🏻‍🍳👨🏻‍🍳
▶️ Course dates November Nov 16th, 23rd & 30th @ 5.30pm. Approximately 1½ hours but some days it may be a little longer depending on what we are cooking!