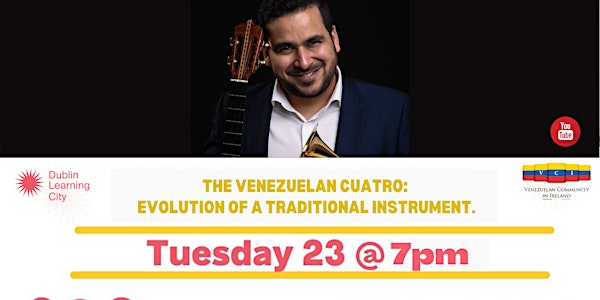 Venezuelan Cuatro: The evolution of a traditional instrument.
Join us on Dublin Learning Festival for an online music journey presented by Venezuelan Community in Ireland and a Grammy Award Winner.
About this event
Venezuelan Community in Ireland invites you for an online music journey with Miguel Siso Cuatrista, composer, producer and the Grammy Award Winner in the category of The Best Instrumental Album 2018 due to his production "Identidad",considered one of the most important and creative musicians of the new Venezuelan instrumental Music and one of the best cuatro players in the world.
In this event, we will be listening to the fascinating melody path of The Cuatro and its evolution in the music industry from beign accompanist to a soloist instrument with global perspective of music which has given Miguel the opportunity to merge the cuatro with many different music styles such as jazz, classical, Latin, Flamenco, hip-hop, Irish, Indian and African music among others. No prior knowledge is needed, just a genuine interest to discover a traditional instrument without forgetting its origins and the recognition of the place traditional music in the music intrustry.
This a free event from the iniciative Dublin Learning City Festival 2021.
Organised by: Venezuelan Community in Ireland.
Presented by: Miguel Siso.
Date: 23/03/2021.
Time: 7:00pm.
Place: Youtube.
All audiences are welcome!