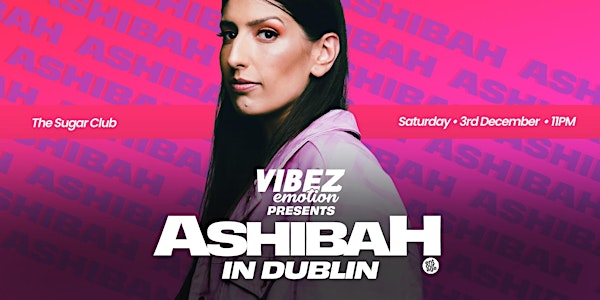 VIBEZ EMOTION presents: ASHIBAH
After an amazing presentation at Dicey's Brazilian Festival, Ashibah is back in Dublin for her first solo show!
When and where
Location
The Sugar Club 8 Leeson Street Lower D02 ET97 Dublin Ireland
Refund Policy
Contact the organiser to request a refund.
About this event
𝗩𝗜𝗕𝗘𝗭 𝗘𝗠𝗢𝗧𝗜𝗢𝗡 𝗽𝗿𝗲𝘀𝗲𝗻𝘁𝘀: 𝗔𝗦𝗛𝗜𝗕𝗔𝗛
𝗦𝗮𝘁𝘂𝗿𝗱𝗮𝘆 𝟯𝗿𝗱 𝗗𝗲𝗰𝗲𝗺𝗯𝗲𝗿
𝗙𝗿𝗼𝗺 𝟭𝟭 𝗽𝗺
𝗦𝘂𝗴𝗮𝗿 𝗖𝗹𝘂𝗯, 𝗗𝘂𝗯𝗹𝗶𝗻
Having already taken South America by storm, Danish/Egyptian DJ, producer and vocalist Ashibah is making her mark on the international scene with her explosive DJ sets and expanding catalogue of rumbling bassline and sultry leads. She demonstrates her innate musicality by marrying all elements with her unique vocal.
Ashibah's first big hit 'Wade of Water' with Kolombo ended up on all charts in 2013. Then came the Brazilian breakthrough track 'Circles' with Vintage Culture.
Recently she has topped dance charts worldwide with tracks like 'We Found Love' (a collaboration between her and Nora en Pure) and her smash hit 'Devotion' on DFTD.
Over the years she has collaborated with artists like Kolombo, Robosonic, Mat.Joe, Ferreck Dawn, Vintage Culture, Nora en Pure and published songs on Defected Records, Get Physical, Sony Music, This Never Happened and Spinnin Records.
Dress Code: PINK
𝔽𝕠𝕝𝕝𝕠𝕨 𝕠𝕦𝕣 𝕤𝕠𝕔𝕚𝕒𝕝 𝕞𝕖𝕕𝕚𝕒 𝕒𝕟𝕕 𝕘𝕖𝕥 𝕣𝕖𝕒𝕕𝕪 𝕥𝕠 𝕞𝕠𝕧𝕖 𝕪𝕠𝕦𝕣 𝕓𝕠𝕕𝕪.
instagram.com/vibezemotion
𝗦𝗲𝗲 𝘆𝗼𝘂 𝗮𝗹𝗹 𝗼𝗻 𝘁𝗵𝗲 𝗱𝗮𝗻𝗰𝗲 𝗳𝗹𝗼𝗼𝗿.
𝗦𝘁𝗿𝗶𝗰𝘁𝗹𝘆 𝗢𝘃𝗲𝗿 𝟭𝟴𝘀 | 𝗥𝗢𝗔𝗥 | 𝗜𝗗 𝗥𝗲𝗾𝘂𝗶𝗿𝗲𝗱
𝗧𝗶𝗰𝗸𝗲𝘁𝘀 𝗡𝗼𝗻-𝗥𝗲𝗳𝘂𝗻𝗱𝗮𝗯𝗹𝗲
𝐏𝐨𝐰𝐞𝐫𝐞𝐝 𝐛𝐲
Vibez Emotion