Description
Victorian and Edwardian Architecture in TCD, Grafton and Kildare Streets and Stephen's Green area.
Colleges and Museums, Churches and chapels. From John Ruskin Ruskin and cardinal Newman to Belfast genius, to a forgotten Pre-Raphaelite.
Please join us for this relaxed, convivial tour, celebrating all that's best in art, apllied art, architecture and design, from Victorian and Edwardian Dublin (approx 1837-1910)
Lots of insight and detail, yet delivered in our traditional, highly accessible, sociable Dublin Decoded style. The architectural and artistic treasures that lie unseen and remarked, all around us. Everyone welcome!
Note, this is both a stand-alone tour, and also a precursor to our Victorians-2 tour, two days later, on Sunday 31 March (see our seperate Sunday listing Victorians Tour -2, Sunday)
Please note the Sunday tour takes place at the earlier time of 11.30am. but this Friday tour runs 14.30- 15.55 approx
Price for Friday Tour €17.50 online or €20 on the day walk-up.
Walk ups subject to availability and space (we usually take our online contingent +5- 6 walk up guests approx)
Meet point/ Start point: directly underneath the Campanile of Trinity College 14.25 (2.25pm)
(Please see location in map at foot of the ticket page.)
Please stand directly underneath the Campanile at 14.25- 14.30. Thank you. TCD and this area of TCD can be crowded with tours this time of year, and refunds may not be issued for guests who miss the tour or the guide by standing 10- 20 yards away.
Times: Please buy your tickets or or present your tickets at 14.25. (Presenting your tickets on the screen of your phone is absolutley fine)

Walk starts 14.30 sharp. (2.30 sharp)

Route includes TCD, parts of Grafton and/or Kildare St and /or Dawson St. plus Stephens Green and area.
Approx finish time 16.35PM (All times approx,)
End point: Stephen's Green (South) or near corner Stephen's Green with Harcourt St, nearby.
Everyone is very welcome. Come and experience Dublin's art and archiecture explained and decoded.
We look forward to welcoming you on tour!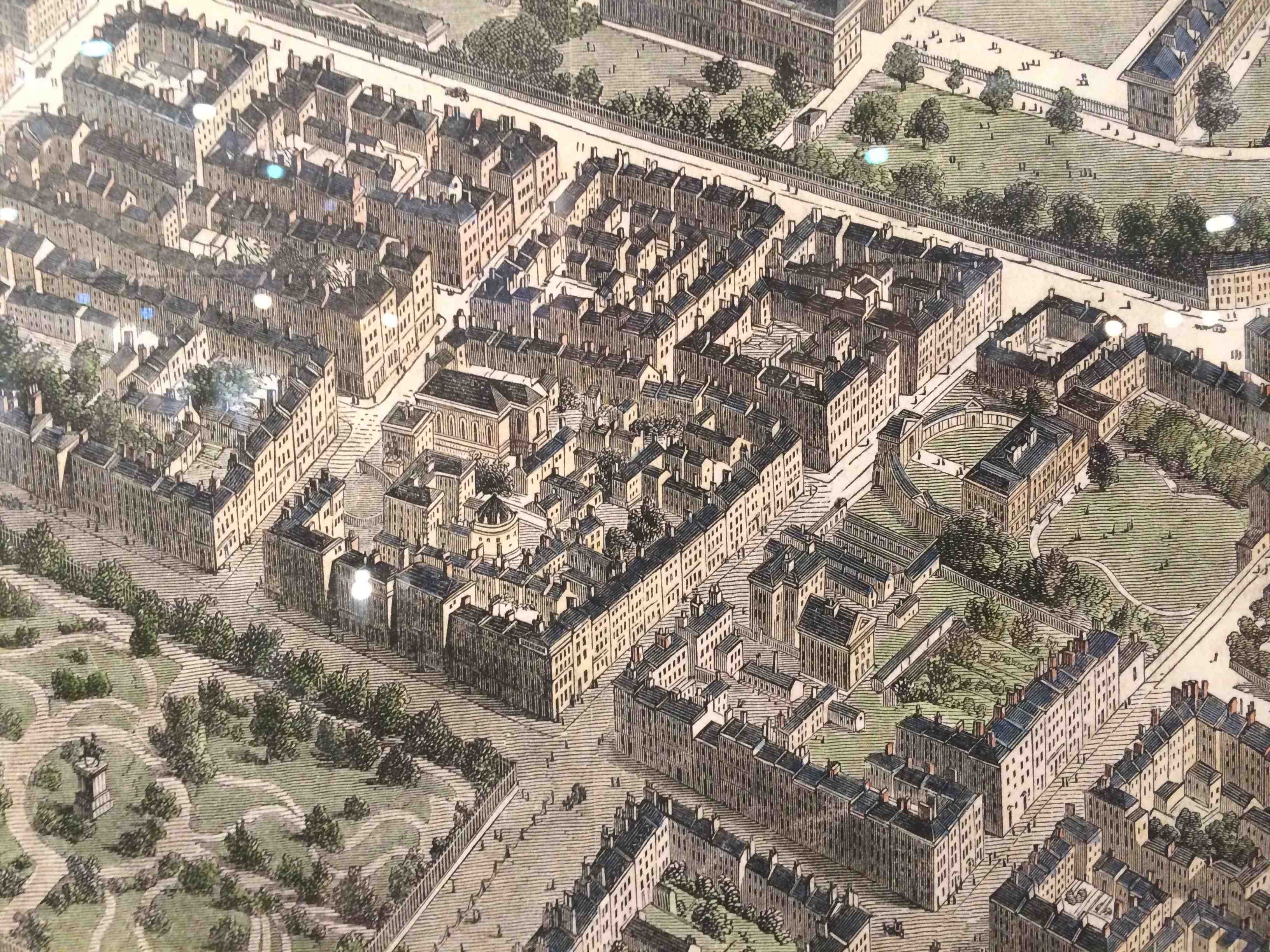 image, detail of bridseye view of Dublin, published c. 1846 by the Illustrated London News.