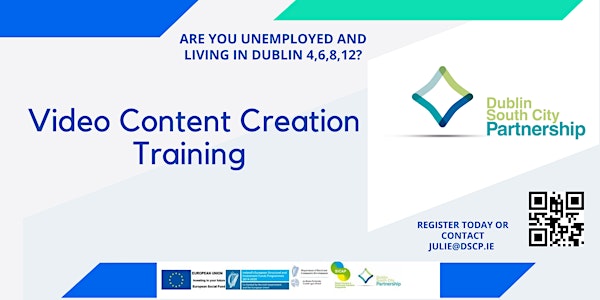 Video Content Creation - 4th & 5th October 2022
Video Content Creation Training - 2 Day Webinar 4th & 5th October 2022 10-12:30
About this event
Course Outcomes
Create effective video using a smartphone and website
applications. You will leave the workshop having learned the skills
you need to produce your own videos. You'll understand how to
make impactful marketing videos for your business and
promotions.
Course Content
Key elements of shooting a marketing video including:
• How does video content fit into an online marketing strategy?
• Planning videos – What videos each participant should make
that would benefit their business and tourism customers
• What is the best structure for video?
• Choosing the right shots
• Storyboarding – how to storyboard the video to ensure good
flow of information and structure
• Apps and tools for creating better video.
• Shooting video on a smartphone. Tools and tricks
• Finding the best light for videos and what equipment should
participants invest in?
• Tools and tips for editing video
• How to upload video to popular hosting sites including
Instagram, YouTube and Facebook
• How to get people to watch videos. Tips and techniques to
achieve this.
• Case Studies
Practical homework elements:
• Create short form video content for social media
• Planning and storyboarding a short video
• Record, shoot and edit a short video for your business