Description
Eirebus Coaches have partnered with Farmaphobia to offer return bus journey (IFSC & Swords) with a Nightmare pass that gives you entry to 5 amazing Haunted Experiences which will terrify and push your nerves to the limit.
We will collect and return passengers from Custom House Quay and Malahide roundabout (near Pavilions). Visit our Facebook/ Twitter page for maps showing our pick-up points.
Our coaches will depart CUSTOM HOUSE QUAY & MALAHIDE ROUNDABOUT at the following times: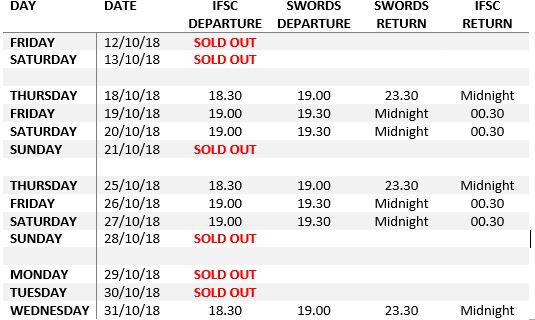 The Farmaphobia Nightmare pass duration is 2-2.5 hours. When all passengers are back on board, the bus will depart to Malahide Roundabout (Swords) and Custom House Quay - same stops. Visit our Facebook/ Twitter for maps of where bus stops are located.
For passenger health and safety, strictly no alcohol consumption permitted on the coach.