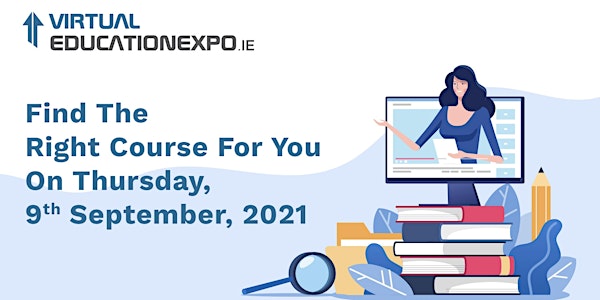 Virtual Education Expo - Live & Online Event (Thursday, 9th Sep, 2021)
Talk to leading course providers at our FREE online education fair. Discover the latest courses and opportunities that our exhibitors offer
About this event
Virtual Education Expo returns this autumn. Looking for a course to help you advance in your career? Eager to learn a new skill? Or just hungry for a new hobby? This online event will go live on Thursday, 9th September 2021. This virtual fair will take place between 10am and 4pm and is dedicated to those looking to enrol in a course in 2021/22.
Our virtual fair will consist of:
Course Providers from Ireland available to chat about their upcoming courses.
Course Promotion & College Videos that will showcase opportunities to thousands of students nationwide.
Live Interactive Webinars to share insights along with live Q & A
Active Database Search for prospective students to find colleges and engage with.
Live Chat & Video Calls to ask questions to course provider in real-time via chat or video calls.
Concise Brochures available to download.
Don't miss the opportunity to speak with admissions teams from:
CCT College Dublin
Oxford Brookes University
Global Institute of Sport
IBAT College Dublin
Ballyfermot College of Further Education
Professional Accountancy Training
Letterkenny Institute of Technology (LYIT)
City Colleges
Dun Laoghaire Further Education Institute (DFEi)
IT Sligo
Education & Training Boards Ireland 
Portobello Institute
Irish College of Traditional & Integrative Medicine
Teaching Council
FIT - Fast Track to IT
Nightcourses.com
And watch live webinars on topics such as:
How Tech Has Changed the World of Work: Addressing the Tech Skill-Gap
Become a Tech Apprentice: The Fast Track to IT
Letterkenny Institute of Technology (LYIT) – What makes LYIT different?
GIS Postgraduate Courses: Study for a Career in the Football Industry
Pathways to Teaching
PAT Edtech: Virtual Education the PATway
PAT Fintech: Study for your Career in Finance
Education and Development of Finance Professionals
DFEI Sound: Choose the option that suits you
Your Future Remastered: Postgraduate Courses at Oxford Brookes University
Is there a better approach to health care today?
Education and Development of Finance Professionals
Virtual Education Expo will be hosted by Careers Unlimited, operators of successful education and career events in Ireland such as Career Path Expo, Jobs Expo and Construction Jobs Expo events. As well as the hugely popular - online courses portals Courses.ie, Whichcollege.ie, Postrad.ie, Nightcourses.com and OnlineCampus.ie. Register today and get FREE ACCESS to all exhibitor booths and live webinars on 9th September. You will received the link to enter the event before it goes live.