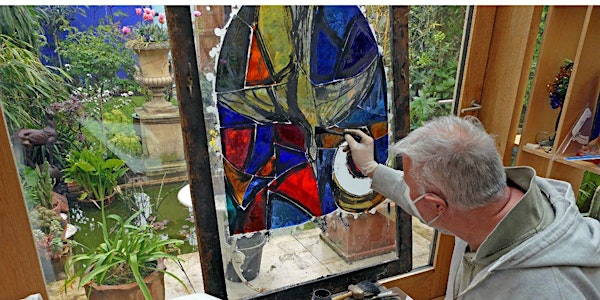 Visit an Artist's Stained Glass Studio. See a large commission in progress.
Location
Pat Muldowney Stained glass Studios. 12 St Albans Rd , South Circular Rd , Dublin 8 D08V2F6
12 St Albans Rd , Dublin 8 D08V2F6
South Circular Rd
Dublin
Ireland
Visit an artist's studio in Dublin to see a large glass window being completed by Pat Muldowney.
About this event
Pat Muldowney is currently working on a commission for Mary the Immaculate Conception Catholic Church in Kingscourt Co Cavan . The commission includes 3 stained glass windows dedicated to Mary with a Rose window , 3 x stained Glass windows dedicated to St Killian, St Bronach, St Colmcille, and a Rose window .
During the visit you will see design proposals submissions , full size drawings and cutline cartoons. One window of cut coloured glass is on the cutting table , one section of a window is waxed and ready for painting, which will give you an understanding of how a window is constructed and developed for painting.There is also a kiln on view with glass ready for firing. Painting demonstrations on glass will also be ongoing. Come meet the artists and see how it all works. Visits last for 30 mins and 6 people max at a time can enter the studio.
Pat Muldowney ANCAD Hdip.ED
Pat Muldowney is a master artist in stained glass and restoration. A graduate of the `National College of Art and Design Dublin and post graduate of the International Institute of Mosaic Ravena Italy. He trained and worked in the renowned Greenland studios, New York before returning to `Ireland and establishing his own studio in the early 90's.