Visiting Scholar Talk: Professor Paul Prinsloo
By National Institute for Digital Learning
Date and time
Mon, 8 Apr 2019 17:30 - 19:30 IST
Location
Dublin City University - Glasnevin Campus Q303/Q304 (3rd Floor) DCU Business School 9 Dublin Ireland
Description
Using Student Data to Inform Design and Pedagogy: Some Pointers
We are delighted to announce that Professor Paul Prinsloo from the University of South Africa (UNISA) has agreed to give a talk as part of the NIDL Visiting Scholar series. Paul is a Research Professor in Open and Distance Learning (ODL) in the College of Economic and Management Sciences at UNISA. His academic background includes fields as diverse as theology, art history, business management, online learning, and religious studies. Paul is an internationally recognised speaker, scholar and researcher and has published numerous articles in the fields of teaching and learning, student success in online education contexts, learning analytics, and curriculum development. His current research focuses on the collection, analysis and use of student data in learning analytics, graduate supervision and digital identity.
Where: Q303/Q304 DCU Business School

When: 5:30pm Monday, 8th April 2019 followed by light refresments
Abstract
Higher education has always collected, analysed and used student data for a variety of purposes e.g., reporting, strategic planning and operational resource allocation. Due to the increasing digitisation and institutionalisation of online learning, as well as advances in technology, analytics tools and software, higher education institutions now have access to more (volume) student data than ever before. We also have access to more nuanced data (granularity and variety) as well as the increasing possibility to collect real-time behavioural data and provide feedback and intervene in real-time. The year 2011 saw the emergence of learning analytics "the measurement, collection, analysis and use of student data for purposes of understanding and optimising learning and the environments in which it occurs." Since 2011, learning analytics as research focus but also as field of practice matured and continue to provoke discussions and research pertaining to its impact not only on student success and retention, but increasingly also in shaping resource allocation, learning design and pedagogy. While evidence of the impact of learning analytics on improving student success is varied and often context-specific, there is increasing interest how student data can be used to inform learning design and pedagogy. In this presentation I would like to provoke some discussion surrounding some of our assumptions pertaining to student data before mapping evidence of how student data can inform learning design and pedagogy. I hope to conclude by locating the collection, analysis and use of student data to inform learning design and pedagogy in the nexus of ethics, responsibility and care.
Registration
As room space is limited and for catering purposes it is essentIal that you register for this event by no later than Monday 1st April 2019. We anticipate high demand for seats and there will be a wait list if registrations needs room capacity.

https://nidl.eventbrite.ie
Privacy Statement
Personal data that you submit via this registration form in connection with this event hosted by the NIDL at Dublin City University (DCU) will only be used to process your registration and will be treated in accordance with our standard Data Protection Policy. DCU shall only process such data for the purpose for which you provide it and to the extent necessary to process your registration. You have the right to withdraw your registration and you also have the right to access any data you submit on request. The personal data you submit may be disclosed to a select number of DCU staff in order to process your registration and to manage your participation in this event.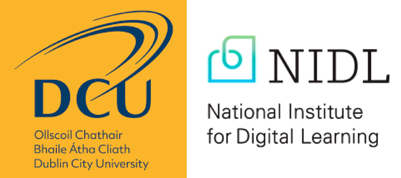 About the organiser
The National Institute for Digital Learning (NIDL) aims to be a world leader at the forefront of designing, implementing and evaluating contemporary models of digital, blended and online learning. We have a mission of transforming lives and societies through listening, linking and leading for a better future.
The NIDL is committed to providing strategic leadership, building strong communities of practice, and enabling and contributing to world-class research. We support a comprehensive suite of professional development opportunities in digital, blended and online learning from workshops to advanced postgraduate and doctoral study.
Additionally the NIDL is committed to promoting access to highly quality university-level online degrees through DCU Connected and a suite of free short courses through FutureLearn, wherever you live. We have particular expertise in the research-informed design of high quality courses for digital, blended and online learning. Our staff are highly regarded for their research expertise and practical experience in the schooling, higher education and training sectors, and play major leadership roles in leading publications and national and international professional bodies.