About this Event
We are privileged to welcome Philip Yenawine, the co-creator of VTS and ex Director of Education at the Museum of Modern Art (MOMA) New York, to talk to us about VTS and demonstrate it live with works of ART.
By using VTS to look and discuss, you can improve ....
Critical Thinking/ Creative Thinking
Problem Solving / Decision Making
Collaboration / Communication / Language literacy / Listening
Respect / Empathy/ Understanding/ Acceptance of Diversity
Visual Thinking Strategies (VTS) is a teaching and learning methodology that deepens cognitive, interpersonal and intrapersonal skills and dispositions through highly structured discussions of diverse works of art in particular.
VTS was incorporated into the student curriculum in the College of Medicine and Health at University College Cork in 2012 as a strategy to enhance the teaching and learning of these competencies in undergraduate education.
It continues to be an important educational objective in an effort to equip students with the skills to function as human beings, to live and work in a rapidly changing world and to ensure that we remain relevant in the digital age. These competencies build on our inherent human strengths, equipping us to compete alongside emerging technologies, automation and artificial intelligence.
Join us for this rare opportunity to hear the theory behind VTS with cofounder Philip Yenawine. Discover how VTS is used in different contexts and in different countries with Professor Aine Hyland in conversation with teachers, healthcare professionals and arts professionals.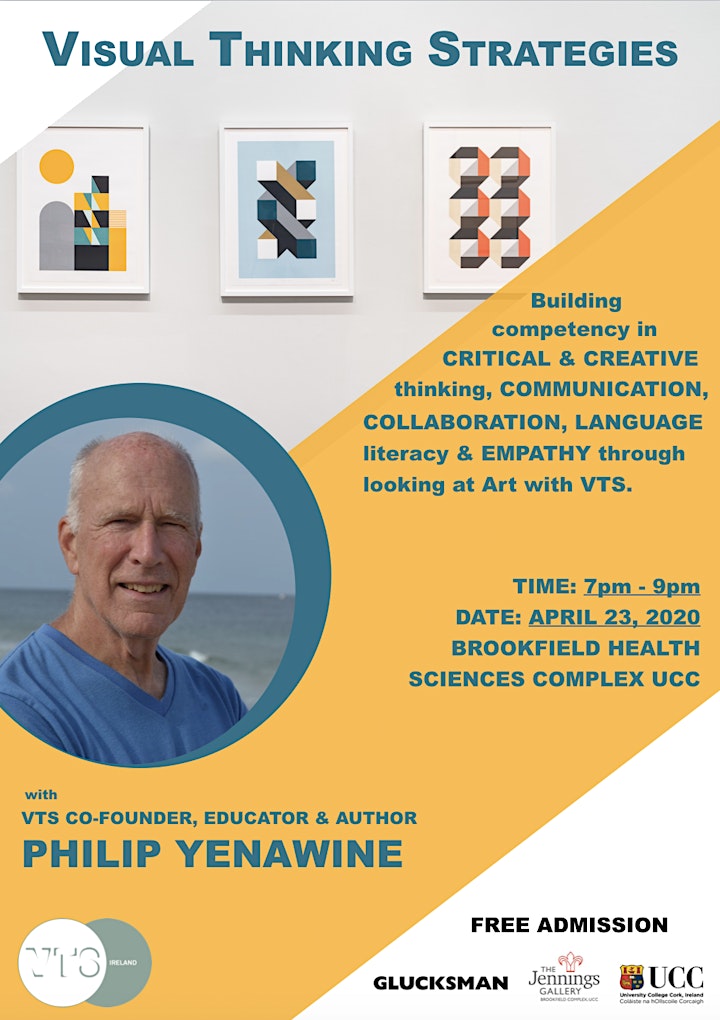 Schedule
6:00 - 6:30 Small group VTS discussions in Brookfield and the Jennings Gallery moderated by UCC staff and international VTS facilitators. Please email vts@ucc.ie to register for this additional element.
6.30 -7.00 Drinks reception
7:00 – 7:10 Lecture Theatre G.10: Professor Helen Whelton, Head of the College of Medicine and Health Sciences University College Cork/Welcome and overview of the VTS program at UCC and its objectives.Introduction to Philip Yenawine
7:10 - 8:00 Keynote: Philip Yenawine – Brief history of VTS, how it addresses current educational requirements & VTS Demonstration
8:00 -8:05 Professor Helen Whelton/Introduction to Professor Emeritus Aine Hyland and to Panel Members
8:05 – 9:00 Q/A Panel discussion with partners and educators (Panel tbc)
About Philip Yenawine:
Philip Yenawine has been engaged in museum education for four decades, ten years of which were spent as Director of Education at MOMA, the Museum of Modern Art in New York from 1983-93.
He has been an advocate for inquiry-based teaching approaches and revolutionized museum education when he developed the protocol called Visual Thinking Strategies, shifting the focus of how we define learning from content training to meaning making.
He is founding director of the Aspen Art Museum and has directed education and museum programs at the Metropolitan Museum of Art in New York, the Museum of Contemporary Art in Chicago and the South Street Seaport Museum in New York amongst others. He has served as consulting curator at the Institute for Contemporary Art in Boston, and as visiting Professor of art education at the Massachusetts College of Art and at the School of the Art Institute of Chicago Department of Teacher Education.He was the recipient of the New York State Governor's Award for the Museum of Modern Art's program for people with hearing disabilities in 1984, he was named Museum Educator of Year by the National Art Education Associations Eastern Division in 1987 and was recipient of the New York State Governor's Award for Visual AIDS and A Day Without Art in 1990 for his work in in creating dialogue and scholarship around HIV/AIDS . He was recipient of the National Art Education Association Museum Educator of the Year Award in 1991 and the recipient of the National Art Education Association Award for Distinguished Service in 1993. He has served as the George A. Miller Visiting Scholar at the University of Illinois, Champaign/Urbana in 1996 and in 2003 he received an honorary doctorate from the Kansas City Art Institute. He was the first educator in residence at the Isabella Stewart Gardner Museum in 2012.
He is the co-founder of Art Matters, a foundation that provides fellowship to artists whose work addresses social issues. He is co-founder of Visual Thinking Strategies (VTS) and the VTS curriculum with cognitive psychologist Abigail Housen; a discussion based, inquiry led teaching and learning strategy that features open ended conversations about selected works of art. VTS is implemented in schools, universities, and cultural institutions worldwide. It has been included in the undergraduate student curriculum of all five schools of the College of Medicine and Health Sciences at UCC since 2012, the first university in the world to formally introduce an arts program to teach key competencies in a large-scale program. Philip is currently Creative Director of the Watershed Collective, a non-profit educational organization that develops affordable online VTS resources for teachers.
He is the author of multiple books about art including six for children. His two most recent books about Visual Thinking Strategies were published by Harvard Education Press, the first in October 2013; the second focused on VTS for preschools was published in March 2018.
He has been involved in the development of curricula and professional development programs that are used in hundreds of schools and institutions around the world since the early 1990s and he continues to work closely with teachers and inquiry-based learning as an ambassador for VTS, speaking at museums and forums around the world.
About Áine Hyland:
Áine Hyland has been one of the most influential figures in Irish education over the past 50 years. Emeritus Professor of Education and former Vice-President of University College Cork, Ireland (UCC), she worked as a research assistant on the Investment in Education report in the Department of Education from 1959 to 1964 followed by a period in the International Labour Office in Geneva, Switzerland.
She graduated with a B.A. from UCD in 1966, with a H. Dip. in Ed from TCD in 1969 and an M.Ed in 1975. She was awarded a Ph.D. by TCD in 1982 for her thesis entitled 'The Administration and Financing of Irish Education, 1830 to 1930'. She was a secondary teacher in Dublin during the 1970s and in 1980 she was appointed Admissions Officer and Senior Lecturer in Education in Carysfort College of Education, Co. Dublin. In the late 1980s, she was appointed Senior Lecturer in Education in UCD. In 1993, she was appointed Professor of Education in UCC and head of the Education Department. She was appointed as Vice-President of UCC in 1999 until her retirement in 2006.
In a voluntary capacity she was a founding member of Ireland's first multi-denominational national school, the Dalkey School Project, which opened in 1978. She was secretary and subsequently chair of Educate Together in the late 1980s and early 1990s. She was a member of the Interim Curriculum and Examinations Board in the 1980s and of the Special Education Review Committee in the early 1990s. She was President of the Educational Studies Association of Ireland from 1990 to 1992. In 1995-6, she was a member of the government's Constitution Review Group and a member of the Technical Working Group on the Future of Higher Education. She chaired the Commission on the Points system which reported in 1999; the Statutory Educational Disadvantage Committee from 2002 to 2005; the National Economic and Social Forum's Advisory Group on Literacy and Social Inclusion, 2009 - 2010, and a Working Group for the State Examination Commission on Reasonable Accommodations which reported in 2009. She was a member and Vice-President of the Irish Research Council for the Humanities and Social Sciences from 2002 to 2009 and of the Dormant Accounts Board from 2002 to 2010. She was a member and Vice-Chair of the Press Council of Ireland from 2009 to 2016. She was a member of the Governing Body of the National College of Ireland from 2006 to 2015, and of the Medical and Health Sciences Board of the Royal College of Surgeons in Ireland from 2009 to 2016.
During her years in University College Cork, she chaired a research and development project on Multiple Intelligences, Curriculum and Assessment from1996 to 2000 as a faculty member of the Project Zero Summer School at the Harvard Graduate School of Education. From 2000 to 2006 she chaired the project 'Bridging the Gap' which aimed to bridge the educational gap between students in less advantaged areas of Cork city and their more advantaged peers. She also co-ordinated an international Graduate Education Network on behalf of the U.S. based Carnegie Foundation's CASTL (Carnegie Academy for the Scholarship of Teaching and Learning) project from 2006 to 2009.
At international level, she was a member of the European Universities' Association's Institutional Evaluation Project (IEP) from 2008 to 2014 and was involved in the evaluation of universities in Portugal, Italy, Hungary, Slovakia, Turkey, Bosnia-Herzegovina and Romania.She has supervised and was external examiner for more than 20 PhD theses in the past 15 years. Her publications include a three-volume collection of extracts from Irish educational documents from earliest times to the 1990s, which she co-edited with Kenneth Milne. (Irish Educational Documents Vols. 1, 2 and 3 published by the Church of Ireland College of Education, 1987, 1992 and 1994). She has published more than 50 articles, reports and papers as well as presenting at numerous conferences nationally and internationally.
In recognition of her services to Irish Education, she was awarded an Honorary Fellowship of the National College of Ireland in 2006; the degree D. Litt. (honoris causa) by University College Dublin in 2015 and a D.Sc. (honoris causa) by the Royal College of Surgeons in Ireland in 2016.She continues to have an interest in educational policy and practice at all levels of education.