Online Convention to mark International Day for the Elimination of Sexual Violence in Conflict - Women Safety & Security
About this event
On 19th June 2021 to mark International Day for the Elimination of Sexual Violence in Conflict
Wezesha in collaboration with AkiDwA presents an International Online Convention:
"Voices From the Ground "
Speakers at the event will be women working with grassroot women from Palestine, Sudan, Kenya, DRC, Ireland and Nigeria
What is the context?
On June 19th, 2015, the United Nations General Assembly proclaimed June 19th the International Day for the Elimination of Sexual Violence in Conflict. They chose June 19th to commemorate the adoption of the Security Council Resolution. The Resolution was adopted in 2008. The Council condemned sexual violence as a weapon of war and an obstruction to peace. The day also honours the victims and survivors of sexual violence around the world.
Who is the Moderator?
Assistant Professor Gillian Wylie
Gillian is Assistant Professor of International Peace Studies in Trinity College Dublin. Her primary research interest lies in the area of human trafficking for sexual and labour exploitation in the context of globalisation. She is also interested in questions of gender as they shape war and peace. She is currently supervising PhD students in the areas of migration ethics; border politics; women, peace and security; feminist peace activism; responding to gender–based violence; gender, peace–building and human needs and gendered indicators for the impact of development aid.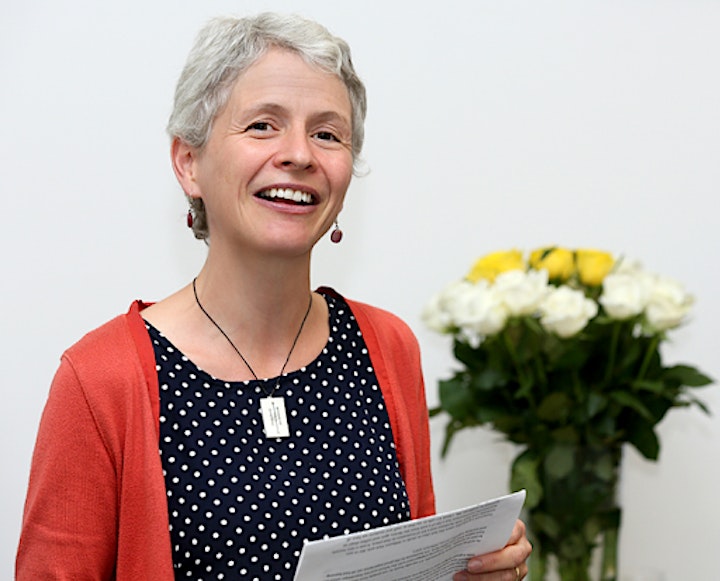 Who are the Speakers?
Maguy Malagano
Based in Goma DRC, Maguy is a Specialist in the Promotion of sustainable livelihoods, supporting and empowering survivors of Sexual and Gender Based Violence with capacity building training and management of socio-economic activities. She formerly worked with Caritas DRC- Goma as Microfinance Assistant for the Tuinuke Sustainable Livelihoods and Protection Program, and with ministry of gender and family Organizing and facilitating training sessions for beneficiaries on the management of income generating Activities in various sectors. Maguy has a master's degree in project management.
What will Maguy speak about?
Maguy's presentation will focus on sexual violence and its impact on women in Goma - North Kivu, DRC.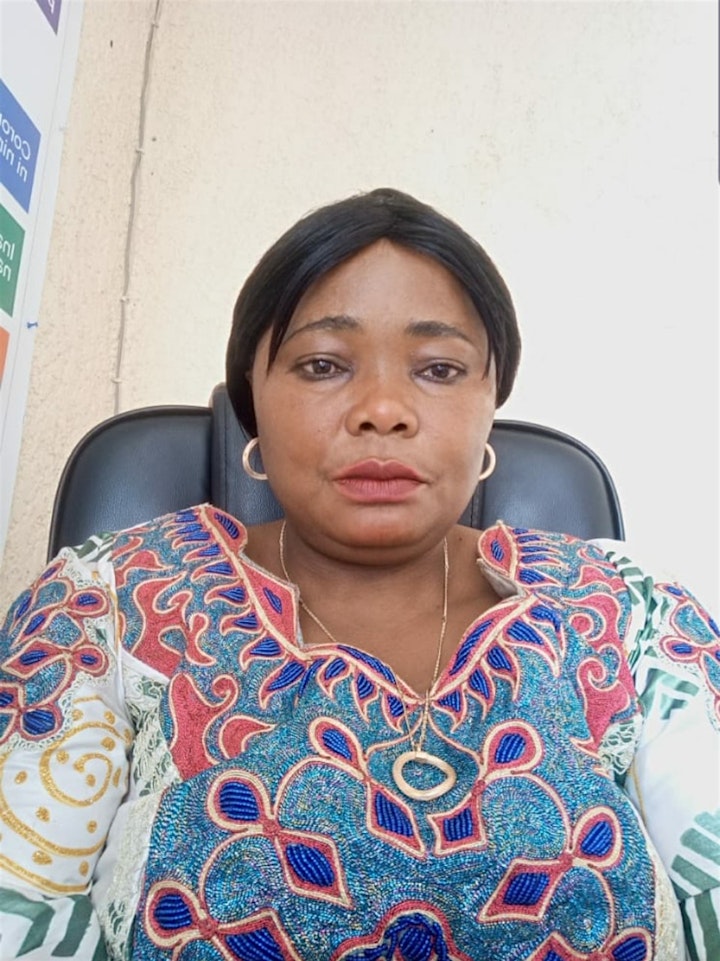 Jane W. Ngetho
Appointed good will ambassador and in charge of Director of legal affairs with United Nations Economic and Social Council, Mrs Ngetho is an advocate with the high court of Kenya and she is the proprietor at J.W. Ngetho & Co Advocates based in the capital city of Nairobi, offering legal services and practising law for all courts in Kenya. She also serves as a director with Advocall, a legal entity in Kenya offering free legal services to destitute cases. She is the Chairlady of Senga welfare group and chairperson of Wezesha Kenya, an organisation that's work to empower women and girls mainly targeting those who are affected by violence and poverty living in the slum settlements and suburbs of Nairobi. Mrs Ngetho presents at a programme hosted by Inooro TV (Kenya broadcasting channel) called Menya Kihoto Giaku (Know Your Rights).
What will Jane speak about?
Jane's presentation will focus on Knowing your Rights, legal support and access to justice.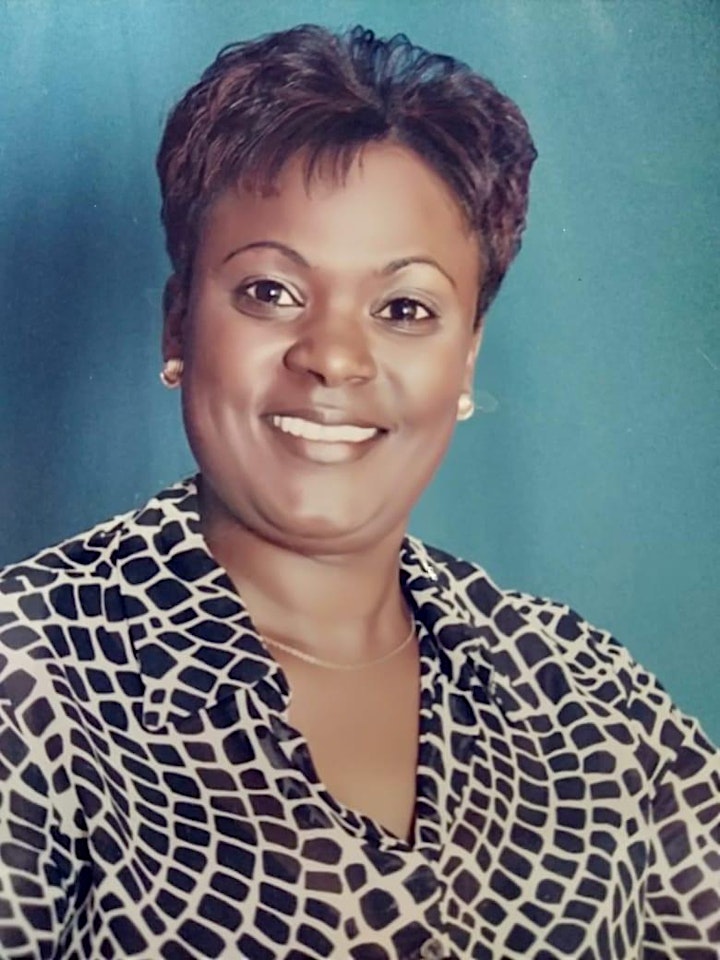 Benedicta Ebuehi
Hon. Benedicta Attoh is a member of the Board, Federal Capital Territory Internal Revenue Service, Abuja, Nigeria, and Immediate Past Executive Chairman, Etsako East Local Govt Council, Edo state where she was previously Vice Chairman and Secretary to the council. Prior to these, she worked as the Senior Special Assistant on NGOs to the Governor of Edo State.
She spent over a decade in Ireland where she worked mainly in the Community Sector. She won the Vodafone Person of the year in 2010 which made it possible for her to work as Dev Education & Campaigns Officer at Plan Ireland, an international dev organization working to achieve lasting improvements in the quality of life of deprived children in developing countries.
What will Benedicta speak about?
Benedicta will focus on abduction of women and girls by Boko Haram, and the impact this has on their health, families and society.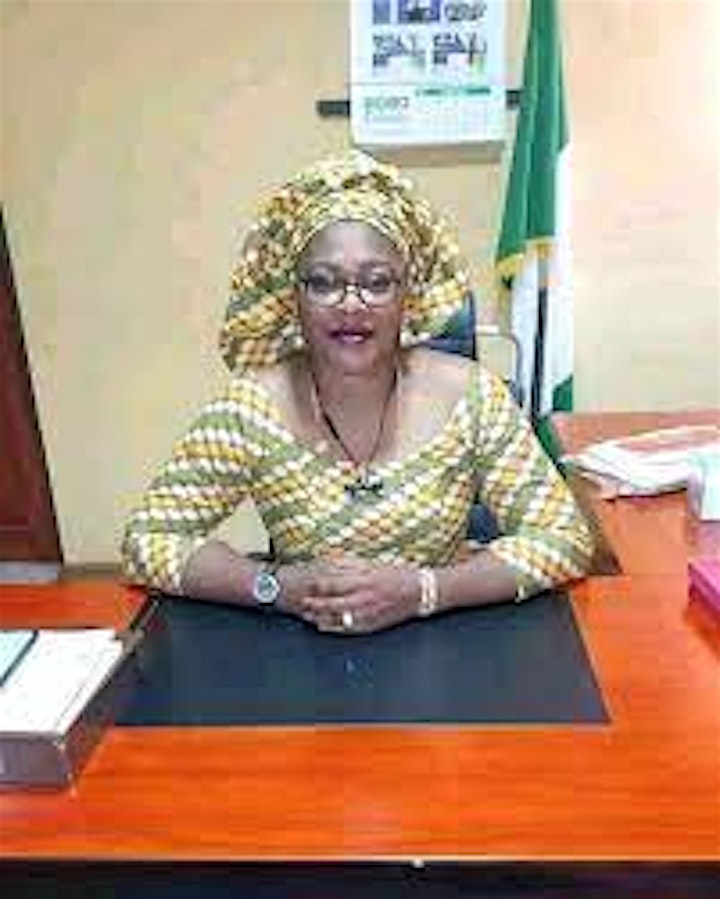 Leina Ibnouf
Originally from Sudan where she worked as community development worker promoting literacy through informal education. Leina has been living in Ireland for nearly 20 years and she is an active Alumni of UCD where she graduated with a MSC in management from the Smurfit Bussiness school. She is a researcher, human right activist and advocate on violence against women. Leina has been volunteering with AkiDwA reaching out, providing support, information and training to Arabic speaking women.
What will Leina speak about?
Leina's presentation will focus on the situation facing women in North and South Sudan.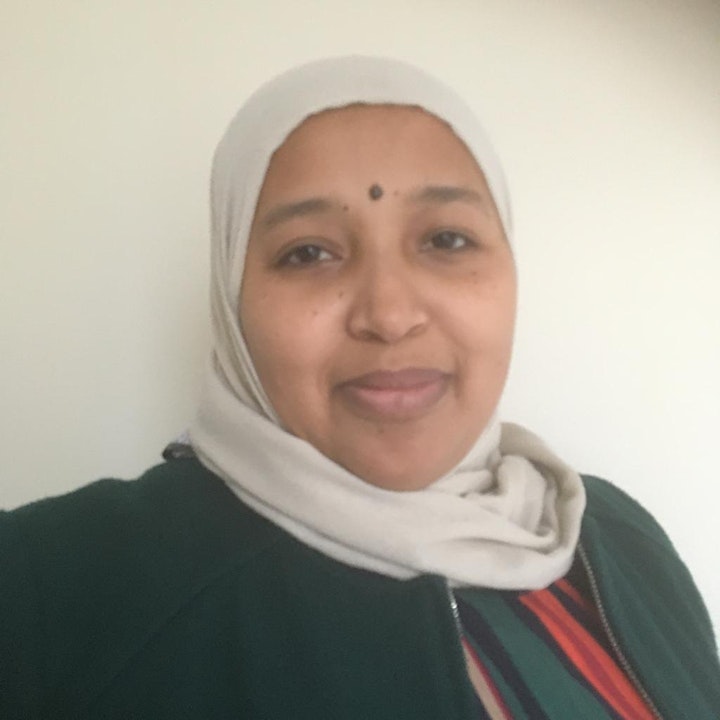 Lama Odeh
Lama Odeh is a free-lance psychosocial consultant based in Ramallah, in the Palestinian territories and MA programme supervisor at Al-Quds University, Palestine. She works with regional and local organisations to deliver supports such as Stress Management & Debriefing, EMDR, PSTD, PFA, Crises Interventions, individual, family and group therapy . Lama is a recognised expert in the field of the "impact of the occupation on Palestinian children's Psychological wellbeing. She specialises in counselling children, youth, women, people with disabilities, refugees, prisoners, and survivors of political and domestic violence in regional and local contexts of conflict and emergencies.
What will Lama speak about?
Lama's presentation will focus on the impact of conflict and violence on children and communities in Palestine and addressing trauma.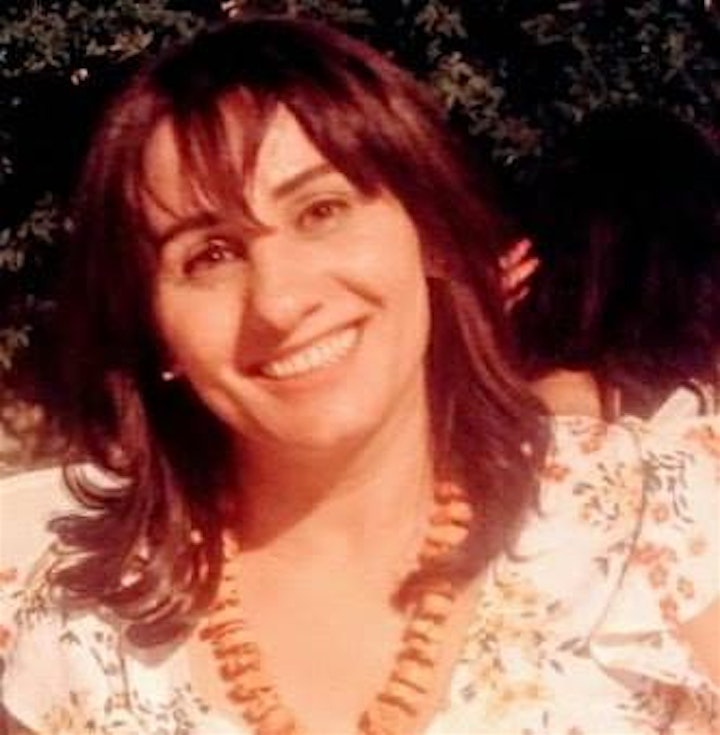 Dr Salome Mbugua
Commissioner for Irish Human Rights and Equality, Dr Mbugua is a researcher, gender equality activist and human right advocate. She is the founder of AkiDwA -The Migrant Women's Network and co-founder of Wezesha- Africa diaspora led development organisation. She has over 20 years' experience of working with under-represented groups in particular women, children, and the youth, in Europe, Africa and Internationally. Her strong belief in equality and justice has shaped her career, leading to engagement with policy makers at national, European and International level. In September 2018 she was appointed by Tánaiste to chair the working group on development of Ireland 3rd National Action plan on women peace and security. Salome has conducted research on women from armed conflict and her Doctoral research focused on integrating women into peacebuilding with case study from Goma, DRC.
What will Dr. Salome speak about?
Dr. Salome's presentation will cover the need for protection to aid the participation of women in peace building.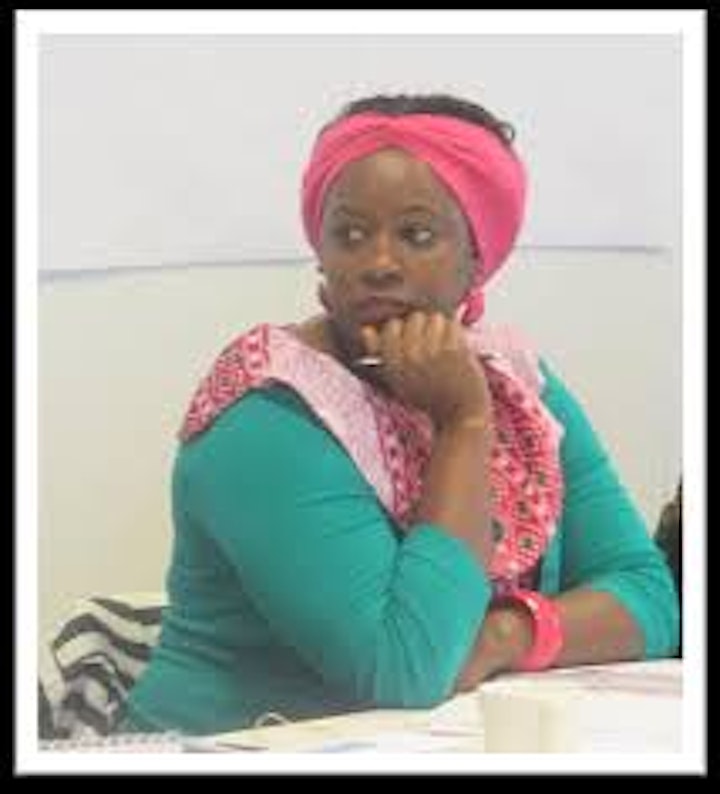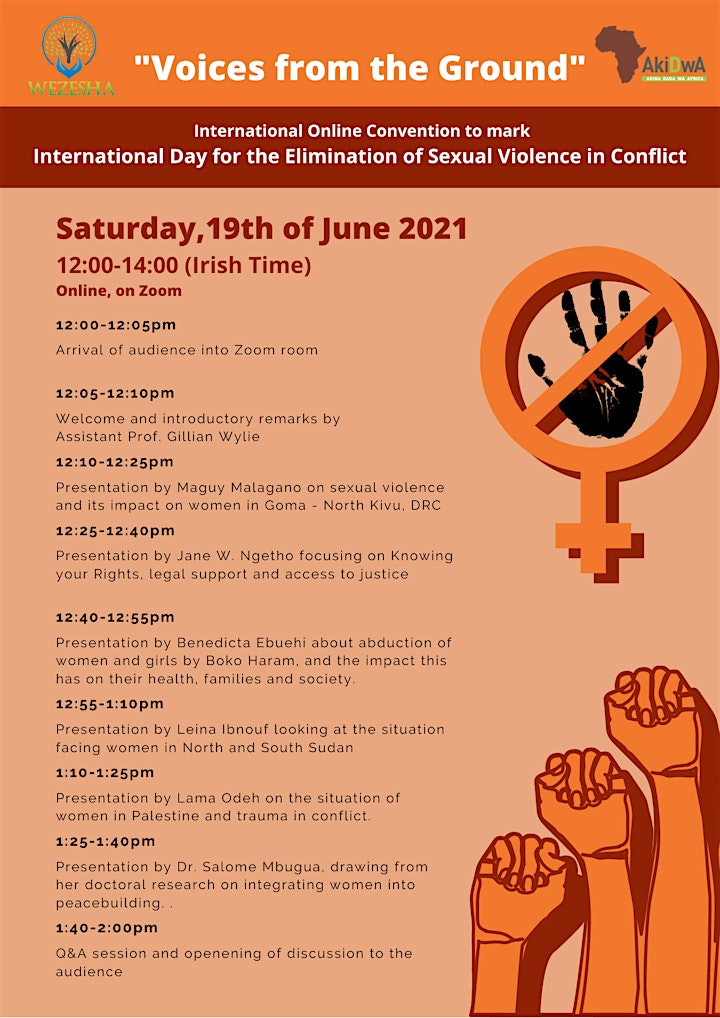 Organiser of Voices From The Ground: Wezesha-AkiDwA International Conference
Established in 2010 Wezesha Swahili for 'empower', is an African Diaspora led Development organisation that aim to support, promote and empower African women and children, who have been affected or are likely to be affected by issues of conflict, violence and poverty. The organisation works in collaboration with local groups and stakeholders in establishing partnerships to raise awareness and to end sexual and gender-based violence and poverty. The organisation is currently working with partners in two piloting countries, Democratic Republic of Congo (DRC) and Kenya.