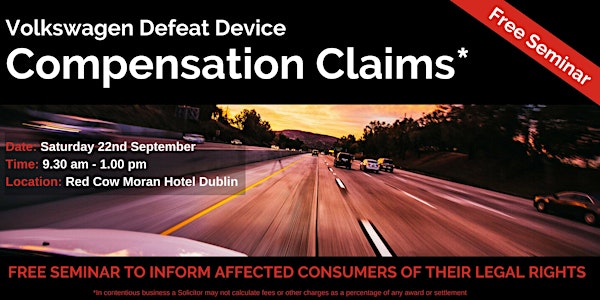 Volkswagen Defeat Device Compensation Claims*
Location
Red Cow Moran Hotel
22 Naas Rd
Fox-And-Geese
D22 YX80 Dublin
Ireland
Description
Volkswagen Defeat Device Compensation Claims* FREE Seminar to inform affected consumers of their legal rights.

Are you the owner of a Volkswagen – Audi – Seat – Skoda diesel engine? Which may be one of over 80,000 Irish vehicles affected!

Is your vehicle affected by the recall to replace the software 'defeat device' in your vehicle?

Do you want to know what your legal rights are before you agree to your vehicle being recalled?

Get the legal help you require.

Moloney & Co. are acting for current and former owners of Volkswagen, Audi, Seat and Skoda motor vehicles caught up in the Volkswagen emissions scandal.

We are specialist lawyers experienced in holding corporations to account and we are seeking compensation and justice for those who have been affected by this scandal.

Moloney & Co. Solicitors have brought together a team of international experts and lawyers, who are leading the VW lawsuits in their countries, advising consumers affected by the scandal.

Please Note: Attendance at the seminar is subject to filling out an application form which will be emailed to you after registration on Eventbrite.

Speakers at the seminar will be:
-Liam Moloney - Managing Partner Moloney & Co. Solicitors www.moloneysolicitors.ie
-Carlos Villacorta - Managing Partner of BCV Lex law Firm Madrid www.bcvlex.com
-Claire Wilson - Solicitor in Edwards & Co. Solicitors Belfast www.edwardsandcompany.co.uk
-Chris Haan - Associate Solicitor Leigh Day UK www.leighday.co.uk
-John Bennett - Consultant Motor Engineer Dublin www.vehicletechniques.com

The "defeat devices" were designed and developed and engineered by VW and Audi and installed in engines to be incorporated in affected vehicles manufactured by VW, Audi, Skoda and Seat in order:

-To cheat the emission testing regime
-To deceive regulators and purchasers of the affected vehicles
-To enable the affected vehicles to be marketed to purchasers as having market/leading environmental credentials
-To maintain and increase sales and profits for the manufacturers

What is a Defeat Device?
A defeat device is defined as any element of design which senses temperature, vehicle speed, engine (speed), or (PM) transmission, gear, manifold vacuum or any other parameter for the purposes of activating modulating delaying deactivating the operation of any part of the emission control system.

Diesel vehicles produce a range of polluting emissions, including the oxides of nitrogen (NOx).
NOx are harmful to human health and the environment. Regulatory vehicle emissions standards and testing regimes exist for the specific purpose of reducing the adverse effects of polluting emissions, including of NOx.

Refreshments will be provided on the day.

Car parking is at a reduced rate of €4 per day for attendees.

For all inquiries about the event please call the office at Moloney & Co. 180 200 249 / 045 898000.


*In contentious business a Solicitor may not calculate fees or other charges as a percentage of any award or settlement.