Event Information
Location
Glendalough Upper Lake Car Park
Glendalough Upper Lake Car Park
Glendalough
Ireland
Join us once again for a Camino Training morning, this month walking our way to The Scalp in Glendalough. All are welcome! At 10 am, we'll
About this event
Join us once again for a Camino Training morning, this month walking our way to The Scalp in Glendalough. All are welcome!
At 10 am, we'll meet at Glendalough Upper Lake Car Park. We will start with a 15-minutes introduction and gentle stretch, providing advice on what to bring with you on the Camino. We will then set off at 10.15 am sharp.
We'll take a delightful walk through the forest before a short but steep climb to The Scalp itself. From here, we'll enjoy the view!
Book your place today for €10 which goes entirely to our partner charities.
Here is some information about the walk -
This walk follows the same route as the other Spinc trails up onto the boardwalk. It stays on this boardwalk for 1.7km before turning off in the direction of Lugduff Mountain. This section of the trail is a good place to spot deer and birds such as Raven, Merlin and Kestrel. Finally, the trail links up with the Wicklow Way track to lead you back to the Information Office.
Spinc and the Wicklow Way (Red Route)
Grade: Hillwalk
Distance: 11km
Time: 4hrs
Climb: 490m
What to bring on the day -
Water and small packed lunch
Walking shoes/boots
Walking poles
Small backpack
Walk map printed
Waterproof gear (this is Ireland ;) )
We look forward to introducing you to your Camino journey and guiding you every step of the way.
Book your place today for €10 which goes entirely to our partner charities.
About your guides - Follow the Camino!
We are the Camino de Santiago tour experts. We have been operating guided and self-guided tours on the Camino since 2007, and we love creating bespoke Camino itineraries for all types of pilgrims.
Learn more on our website: https://followthecamino.com/en/
Disclaimer: Participants will be responsible for the payment of their own food and drinks at the Camino - they will also be responsible for their return trip home i.e. Dart, taxi, bus etc.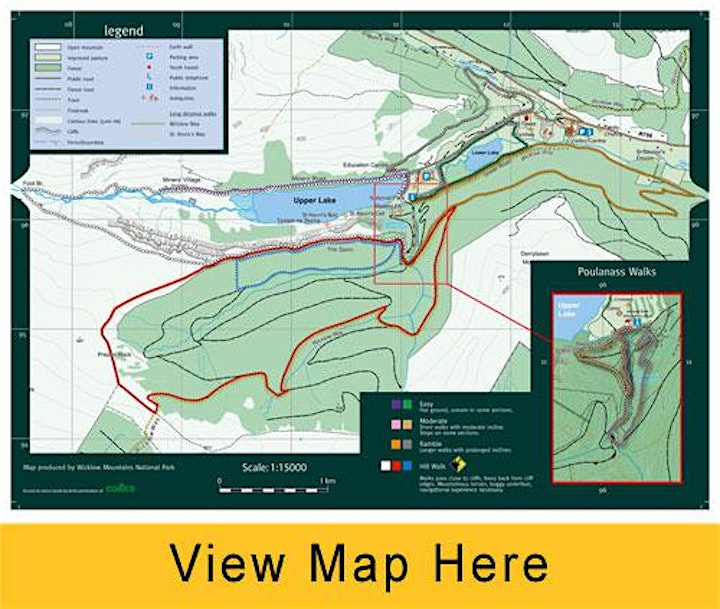 Date and time
Location
Glendalough Upper Lake Car Park
Glendalough Upper Lake Car Park
Glendalough
Ireland