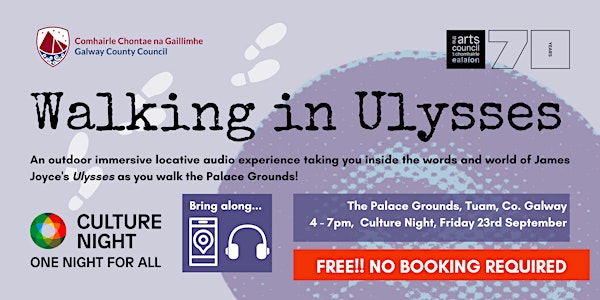 Walking in Ulysses - Culture Night 2022
EXTENDED!! To access the walk visit www.solstrekmusic.com
When and where
Location
The Palace Grounds TownParks (4th Division) Doogra Tuam Ireland
About this event
EXTENDED to 3rd October 2022
An Innovative Sonic Adventure....
Walking in Ulysses brings you on a unique immersive audio journey into the heart of James Joyce's Ulysses, combining music, words and sound art!
Using innovative locative audio technology, we have created an engaging abridged journey in the company of all the characters from Ulysses (well, the main ones anyway!)
You simply plug your headphones into your smartphone, click on the link, and walk!
Along the way you will meet the characters of the book - Leopold Bloom, Stephen Dedalus, The Citizen (and his dog!), and of course Molly Bloom. Experience the carriage ride to Dignam's funeral in surround sound, and discover the imaginary love story between Bloom and Gertie McDowell!!
To access the walk, visit Walking in Ulysses, visit www.solstrekmusic.com.
This event has been made possible through funding from Galway County Council. We are very grateful for their support.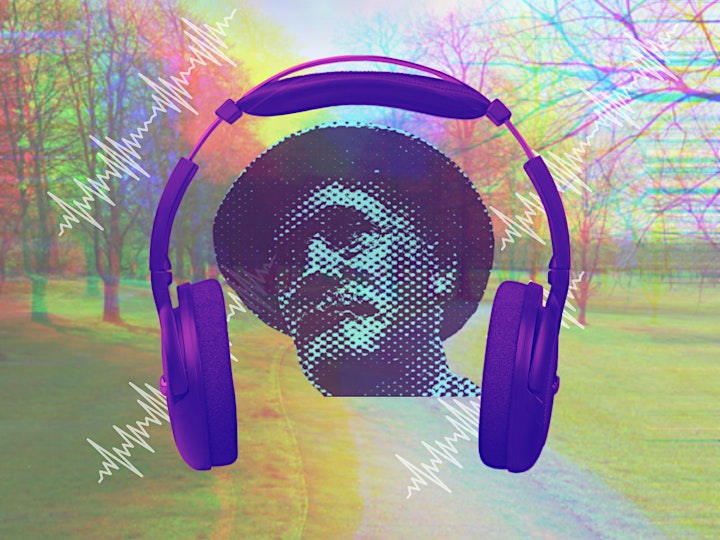 Practical Information:
The walk starts at the Palace Grounds Playground. The Ivernia Arts team (and friends!) will be there to answer any questions you may have.
To experience the walk you will need to bring your own smartphone and headphones.
Our preferred locative audio platform Sonic Maps uses the GPS signal from your phone to trigger the audio as you walk. Please enable your GPS signal on your phone before setting off on your walk.
The walk takes place on well maintained paths in the Palace Grounds, Tuam. There is one gentle hill at the start of the walk.
Wheelchair users will need assistance for this first part of the experience.
Please bring suitable footwear and raingear...it might rain!
During the walk, please be aware of your footing and surroundings.
Car Parking: There is ample parking available in the Coral Leisure Centre Car Park, as well as in the O'Toole's supermarket car park. Please note, some parking spaces near O'Toole's require pay and display tickets.