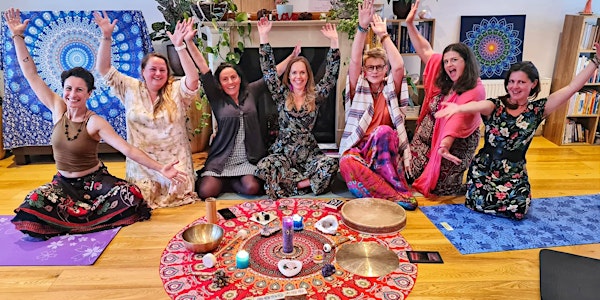 "Warsztaty Ladies Night" pod hasłem "Krąg Kobiet" z Gosią Wojciulewicz
Zapraszamy serdecznie 20 sierpnia 2022 na "Ladies Night" pod hasłem "Krąg Kobiet" w Dublinie!
When and where
Location
6 Foxfield Rd 6 Foxfield Road D05 R2V4 Dublin 5 Ireland
About this event
To spotkanie dla tych kobiet, które szukają wzmocnienia swojej kobiecości, wsparcia życzliwych osób, przestrzeni na dzielenie się swoimi radościami i smutkami oraz poczucia siostrzeństwa. Ladies Night Krąg Kobiet poprowadzi Gosia Wojciulewicz 🔥
Dołącz do nas!
Tworzymy społeczność świadomych i spełnionych kobiet, które wzmocnione "u źródła" mogą później realizować siebie w pełni w pracy zawodowej i w życiu osobistym.
4,5h warsztaty na żywo:
🔹️głęboka transformacja — uaktywnienie i wznoszenie wibracji
🔹️uwalnianie negatywnych emocji
🔹️połączenie się z kobiecą energią
🔹️integracja ciała, umysłu i serca
🔹️praca z intuicją
🔹️harmonizowanie przepływu energii poprzez dźwięki
🔹️trening uważności
🔹️dużo śmiechu, zabawy i pozytywnych wibracji
To spotkanie będzie wyjątkowe, ponieważ Każda z Was będzie tworzyć przestrzeń Kręgu.
Poruszymy tematy w zależności od tego czego będziecie potrzebować na danym momencie życia 🙂
SPOTKANIE POPROWADZI: Gosia Wojciulewicz — Health & Wellness Coach, Konsultantka i Trenerka Duchowa, Certyfikowana Nauczycielka Yogi, Pilatesu i QiGong, Reiki Master.
KIEDY: 20.08.2022 r o godz. 15.30-20.00
GDZIE: Gosia — Your Wellness Now Yoga Studio (6 Foxfield Road, Raheny, D05R2V4)
KOSZT: 49 Euro
Zarejestruj się już teraz!
Kontakt:
Ladies Nights Club
Tel. 0877 48 95 17 / 0830 61 54 15 ladiesnightsclub@gmail.com