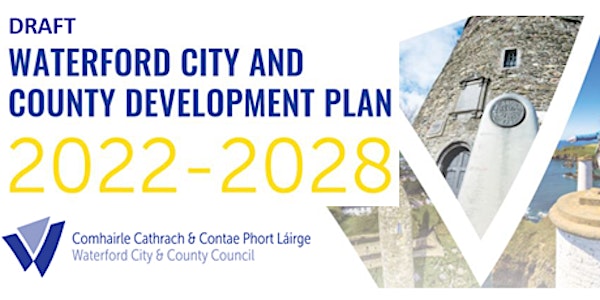 Waterford Development Plan - Environment Heritage Tourism Amenity
We welcome you to discuss the following topics: Environment, Heritage, Conservation, Tourism and Amenity
About this event
Waterford City and County Council has prepared a draft Waterford City and County Development Plan 2022 – 2028. The Draft Development Plan sets out a framework or blue print for the proper planning and sustainable development for the whole of Waterford for a six years period. It includes development policies, objectives and guidelines in addition to land use zoning .
We want you to actively take part in shaping the future of our City and County. Sign up to one or all of the events to ensure you to take every opportunity to play your part as it is your plan!!
Note: Please note that the webinar will be recorded and posted on Waterford Council's Public Consultation Portal. If you don't want to be recorded please turn your camera off when you join the Zoom call.