About this Event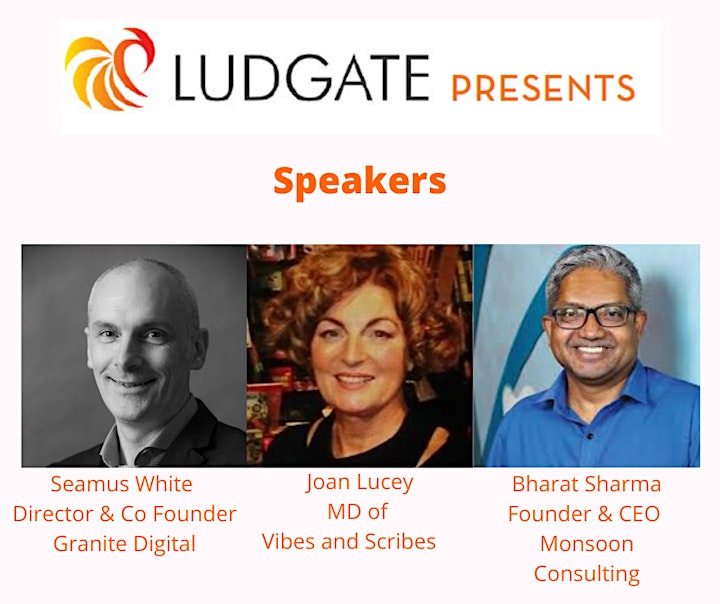 The webinar will be hosted by our Business Development Manager Sharon Keohane, who will be joined by Seamus White of Granite Digital, Joan Lucey, of Vibes and Scribes stores and Bharat Sharma from Monsoon Consulting. In association with AIB.
Seamus White Co- founder and Director of Granite Digital. Seamus became a digital marketing enthusiast with a keen interest in search engine marketing after experiencing first-hand the power of SEO, having spent a number of years working in online marketing for travel businesses. A senior SEO consultant, Seamus is one of the original founders of Granite (a digital agency) setting up the company in 2008 with Conor Buckley, Rob Carpenter & Ger O'Shea.
Joan Lucey Managing Director and owner of Vibes and Scribes Joan is an award winning, passionate small business owner in Cork City. With 20 years retailing experience in books, she diversified into Arts & Crafts, Haberdashery, Fabric, Knit/Crochet and Millinery and now has 3 stores in Cork City with a thriving online business. Vibes and Scribes is one of just five Cork City stores to make it on to the Retail Excellence Ireland Top 100 stores in 2019.
Bharat Sharma is Founder and CEO of Ireland's award winning enterprise eCommerce agency Monsoon Consulting with offices in Dublin, London and Kyiv. Monsoon Consulting are Ireland's only Magento Enterprise Solution Partner, focusing on delivering best in class B2B and B2C eCommerce solutions to large companies such as Uniphar PLC,Pallas Foods,Topline, Heat Merchants, One4All and Central Bank of Ireland. The team at Monsoon provide a full service offering from business consultancy & strategic planning, UX & UI creative design, development & engineering, Infra & Dev ops to a dedicated support team, offering 24x7 critical application support.
Ludgate are delighted to partner with Skibbereen & District Chamber of Commerce on this event.