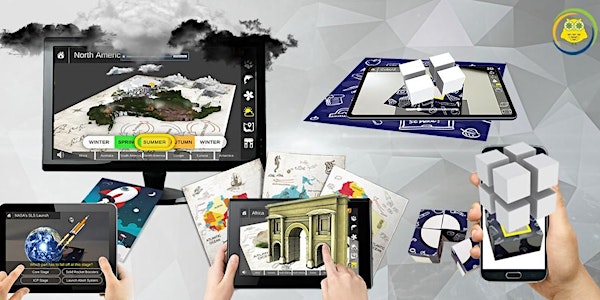 Webinar: How To Get Students Engaged in Learning with Augmented Reality
Discover How To Give An Unrivaled Rich Interactive Teaching Experience and Get Students Engaged in Learning with Augmented Reality
About this event
Discover How To Give An Unrivaled Rich Interactive Teaching Experience and Get Students To Engage With Your Lessons (Without Physical Limitations)
On this CPD Training, we'll cover how to make a lasting difference in your students' learning experience .
You can use these techniques to invite students to engage with the lessons, give an unrivaled rich interactive teaching experience, and even enable students to interact more with previously boring lessons!
Heck, we'll even show you how to make your students excel in any subject!
In fact, here's just a sample of what we'll cover on this incredible CPD Training event:
* How to prepare, manage and deliver interactive 3D lessons using Augmented Reality so you can simplify your teaching with no tech headaches.
* How to integrate Augmented Reality into your curriculum (No matter what you teach) which helps you enhance student engagement (you will use it every day).
* Discover innovative ways to transform your teaching and enable more interaction and team work in the classroom.
* How to take students on augmented reality trips around the world, manipulate 3D objects, and build curiosity about the world around them and how you can deliver lessons without physical boundaries.
* How to help students develop essential meta-skills so you're able to meet modern teaching expectations.
* How to access powerful ready-made interactive lessons that provide you with everything you'll need to get ready for the new school year.
* Meet and exchange experiences with like-minded educators from different parts of the world which enables you to learn from others in your position and take your teaching experience to the next level.
... and much, MUCH More!
Your Benefits for Joining:
All participants will receive a certificate of attendance.
1 attendee per webinar will get a 3 months access to Augmented Classroom free of charge. The draw will take place.
Who should attend:
- Teachers
- Educational institutions
- School district representatives
- EdTech enthusiasts and consultants
- Library media specialists
Don't miss this breakthrough CPD Training that will finally show you EVERYTHING you need to provide your students with Hands-on Learning using Augmented Reality.
Register for FREE today!
If you have additional questions, please contact Helena at marketing@cleverbooks.eu